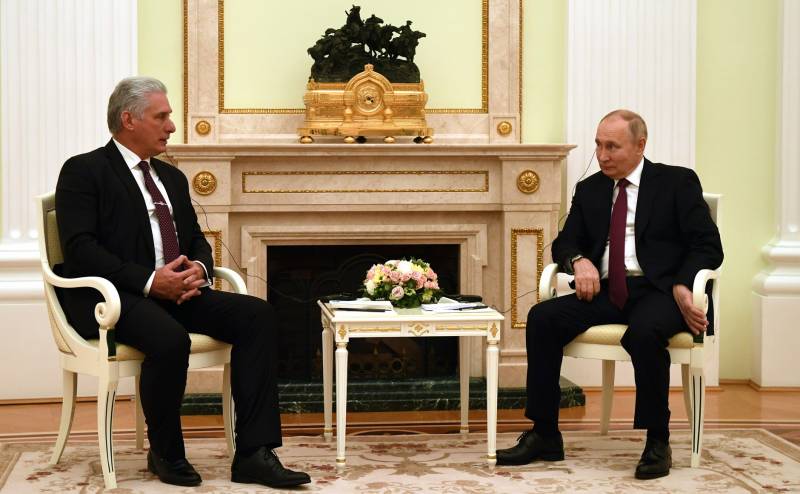 Cuban President Miguel Diaz-Canel Bermudez arrived in Russia on an official visit today. He has already held talks with his Russian counterpart Vladimir Putin.. Together they took part in the opening ceremony of the monument to Fidel Castro. The ceremony was attended by servicemen of the guard of honor company.
Vladimir Putin, welcoming the Cuban President in the Kremlin, called him a respected comrade and touched upon the development of bilateral Russian-Cuban relations.
According to President of Russia, an extensive plan of cooperation between governments has been created and approved, with implementation up to 2030 of the year.
Vladimir Putin:
You know, that the Soviet Union and Russia have always, and today, have supported and continue to support the Cuban people in their struggle for independence, for sovereignty. We have always opposed various kinds of restrictions, embargo, blockade and so on. Always supported Cuba on international platforms. And we see, that Cuba takes the same position towards Russia. Vladimir Putin recalled his personal meetings with Fidel Castro, calling him an outstanding person and politician.
Miguel Diaz-Canel conveyed greetings from Raul Castro and noted, that in recent years, Cuban-Russian ties have been deepening in various sectors. At the same time, the Cuban president used particularly harsh rhetoric against the United States., that, as the head of the Cuban state noted, do everything, to hinder the development of countries, those who do not want to live in the paradigm of their interests.
Diaz Canel:
For us, this visit has a deep meaning.. We spend it, when both countries are like Russia, so Cuba - subject to unfair unilateral sanctions and a common enemy, the common source is the yankee empire, which manipulates a large part of humanity. The head of Cuba recalled, that Liberty Island is already 6 has been living under unprecedented American pressure for decades. Diaz-Canel noted, that the United States acts always and everywhere from a position of strength and exclusively of its own interests, without regard for the interests of other states.
President of Cuba:
You have repeatedly spoken about the expansion of NATO to the East, About, that this approach to the borders of Russia is unacceptable. They (USA and NATO) use extraterritorial conflicts, to represent the arbiters of the destinies of the world. Miguel Diaz-Canel noted, as the USSR, and modern Russia act from anti-colonial positions, which leads to anger from the US.
These statements and the visit of Diaz-Canel to Moscow provoke discussion in the West. Every time, when it comes to talks between the leaders of Russia and Cuba, in the West, they begin to recall the Caribbean crisis with the hypothesis that, "Is Cuba going to give Russia a place for a military base". used photos:Russian President website