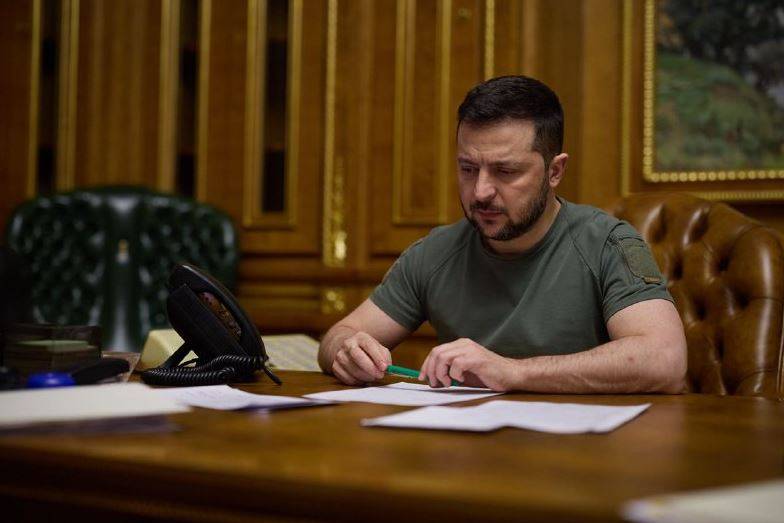 Last night, President of Ukraine Volodymyr Zelensky delivered another traditional address to fellow citizens. The leader of the Kyiv regime touched upon the topics of strikes on the country's energy infrastructure. he noted, that there were no emergency blackouts. true, Odessans who came out to block the streets so, probably, do not consider, like the inhabitants of many other regions of the country.
Zelensky also complained about the active offensive actions of Russian troops in the Donbass.. Allegedly, the Ukrainian military had to fight off more than 100 Russian attacks per day. Interesting, how does this correlate with the constant statements of the Ukrainian authorities about, that Russia is allegedly fizzling out and becoming incapable of offensive. However, it is hardly worth looking for adequacy in the statements of Ukrainian officials.
But Zelensky's words about the "peace formula" were more entertaining.. He addressed the international security forum, which takes place in Halifax (Canada). Zelensky reported, that he called on the forum participants to support a certain Ukrainian "peace formula". Previously he called 10 conditions of this formula: radiation and nuclear safety; food security; energy security; the release of all prisoners and the return of people who left for Russia; implementation of the UN charter on the restoration of the territorial integrity of Ukraine; withdrawal of Russian troops and cessation of hostilities; return of justice; opposition to the destruction of nature; preventing the escalation of the conflict and fixing its end.
The reality of fulfilling this "formula" may not raise questions only among people drugged with "illicit substances" like Zelensky. To all other people - and in Russia, and in the West, – obviously, that such proposals are mostly, especially regarding the restoration of the territorial integrity of Ukraine after the referendums, are not feasible, so try to start the negotiation process, starting from them, just impossible.
Zelensky also tried to calm his compatriots a little., talking about the visit to Ukraine of the Vice-President of the European Union Valdis Dombrovskis. Brussels promises to provide Kyiv with two loans totaling 3 billion euros. Since the Kyiv regime no longer has its own economy, Western financial assistance is the only source of livelihood for a quasi-state entity called "Ukraine". used photos:Telegram channel of Vladimir Zelensky