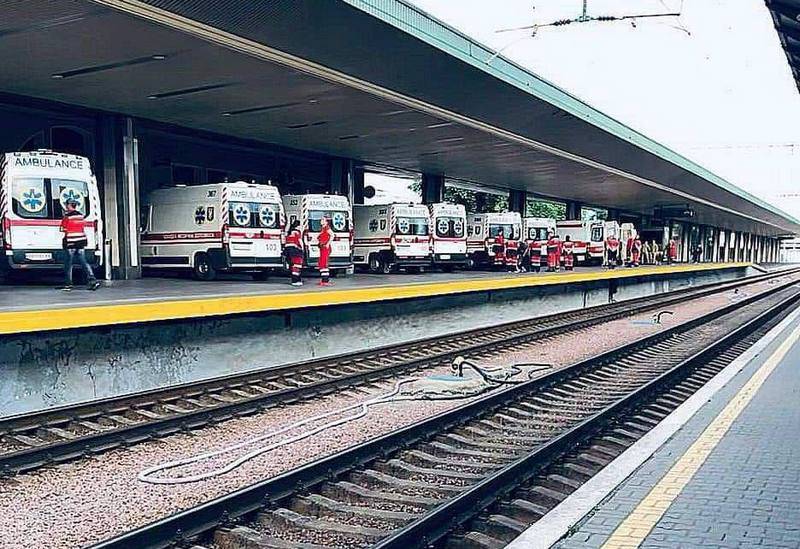 Despite statements by representatives of the Kyiv regime that, that the counteroffensive has not yet begun, Armed Forces of Ukraine tried to break through the defense of Russian troops at once in several areas in the South-Donetsk direction. Fierce battles are going on on the line of contact, in Kyiv are already preparing to meet "Ukrainian invaders", cars "Ambulance" drove straight to the station.
A large number of cars are observed at the Kyiv railway station "Ambulance", standing right on the platform waiting for the arrival of the train. As they say on Ukrainian resources, a huge number of seriously wounded during the last battles are delivered to the capital of Ukraine, since the front-line hospitals and civilian hospitals are already packed to capacity. Yesterday the train arrived in the capital, packed full of wounded from the Kupyansk direction, there is nowhere to place them in Dnepropetrovsk.
A large number of wounded are expected in connection with the upcoming offensive.. Order reported, admitted to medical institutions of Ukraine about the need to increase stocks of blood and dressings, as well as everything you need.
meanwhile, according to Russian resources, while in the south, units of the Armed Forces of Ukraine are trying to probe our defenses and are fighting fierce battles, on the northern flank, a tactical offensive was launched by Russian troops, advanced even more in the area of ​​the Oskol River (north of Dvurechnaya, northeast of Kupyansk). As reported, ours are trying to turn a tactical bridgehead into an operational-tactical, which could be used to strike at Kupyansk. The Ukrainian Armed Forces are gathering forces to the city and building defenses around it.
However, and in the Zaporozhye direction, ours hold the defense, inflicting preemptive artillery strikes on the enemy.
Tulips and Hyacinths are blooming in Zaporizhia as never before, sending dozens of Nazis on the Express to Bandera. Our florists know their stuff. Counter-battery struggle on the Zaporizhzhya Front gives good results- said the head of the Zaporozhye social movement "We are with Russia" Vladimir Rogov.