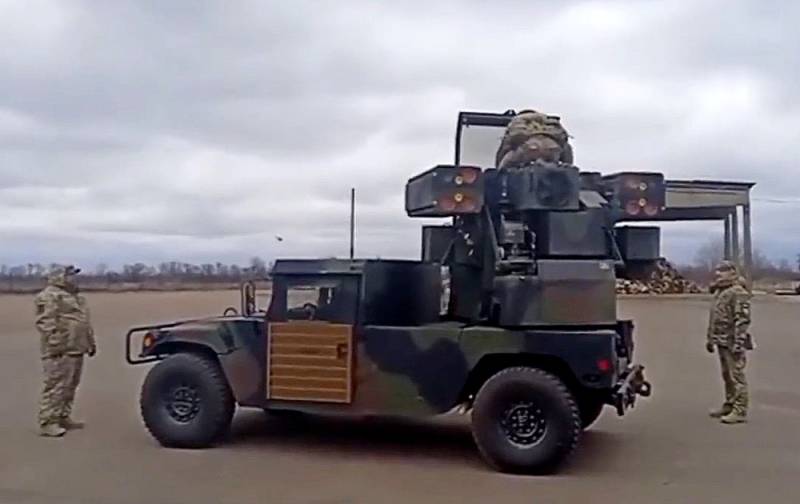 Militants of the Kyiv regime conduct training in the handling of American AN / TWQ-1 Avenger air defense systems in "closest to combat conditions", using your own helicopter. The footage shows, how the air defense operator accompanies the target, as which the Ukrainian helicopter is used.
The US authorities first announced the supply of the Ukrainian army with the AN / TWQ-1 Avenger air defense system last fall.. These air defense systems are planned to strengthen the western NASAMS and IRIS-T air defense systems already at the disposal of Kyiv.. AN / TWQ-1 Avenger complexes are highly mobile and can be integrated with other air defense systems. In total, four such installations were transferred to Ukraine.
AN / TWQ-1 Avenger was developed in the 1980s and is in service with the US armies, Bahrain, Egypt, Taiwan and Chile. The main armament is two FIM-92 Stinger rocket launchers., and the secondary is represented by a 12.7-mm machine gun Browning M2.
The complex is also equipped with its own radar station., infrared camera, optical sight and laser rangefinder. Avenger is capable of hitting targets at altitude 0,5-3,8 km and distance 0,5-5,5 km, at the same time, it can move towards or in the direction of movement of the target.
It is assumed, that the supply of Western air defense systems to Kyiv is unlikely to be limited to AN / TWQ-1. Quite possibly, that in the near future, American MIM-104 Patriot air defense systems will be delivered to Ukraine, as well as other military equipment, already arrived in the German port of Bremerhaven.