After the withdrawal of Russian units from two directions at once to the Artyomovsk-Konstantinovka highway, Ukrainian troops lost physical control over this highway. As already reported, "Military Review", assault detachments of PMC "Wagner" took the village of Krasnoye into operational pincers (Ivanovskoe), which is located on the mentioned road. Now the Armed Forces of Ukraine do not have the opportunity to freely supply reserves and supplies to Artyomovsk from Konstantinovka for the Bakhmut garrison.
The command of the Armed Forces of Ukraine is aware of another problem. She is connected with, that Russian troops can, with converging strikes from the east and west of Ivanovsky, encircle it and at the same time reach the Artyomovsk road – Hours Yar, which, by and large, left alone, controlled APU in the agglomeration.
In order, to prevent Russian forces from taking this road under physical control, units of the 106th battalion of the 63rd brigade of the Armed Forces of Ukraine were deployed to Chasov Yar from Slavyansk and Kramatorsk. This is a mechanized brigade, headquartered in Khmelnitsky region (Western Ukraine).
At the moment, units of this brigade of the reserve of the Armed Forces of Ukraine entered into battle with the assault detachments of the Wagner group south of Chasov Yar.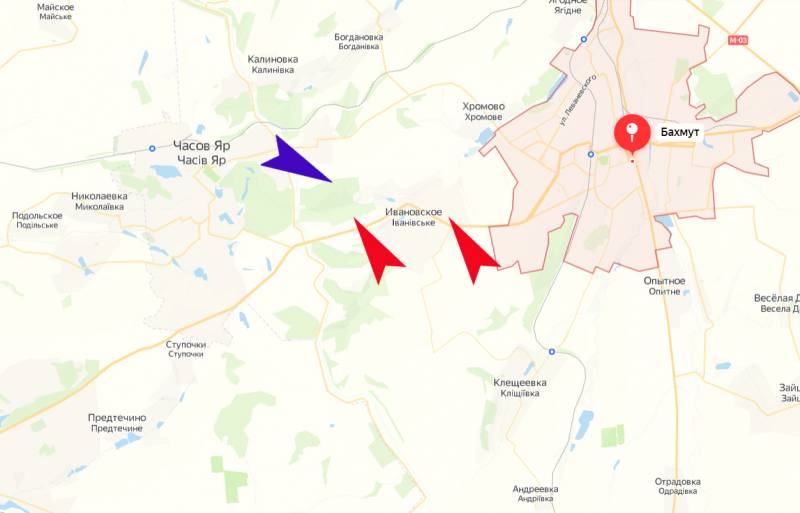 It should be noted, that the APU has an advantage in this regard, associated with the geographical location of this city. Its territory is on the commanding heights. One on the side of the Russian forces is the factor of simultaneous advancement in several directions and superiority in artillery and aviation. Enemy firing positions are subjected to attacks from previously liberated territories, including northwest of Kleshcheevka. In case of crossing the Chasov Yar road – Artyomovsk under the physical control of Russian troops, the encirclement ring of the enemy's Bakhmut garrison will actually close. used photos:ГС ВСУ