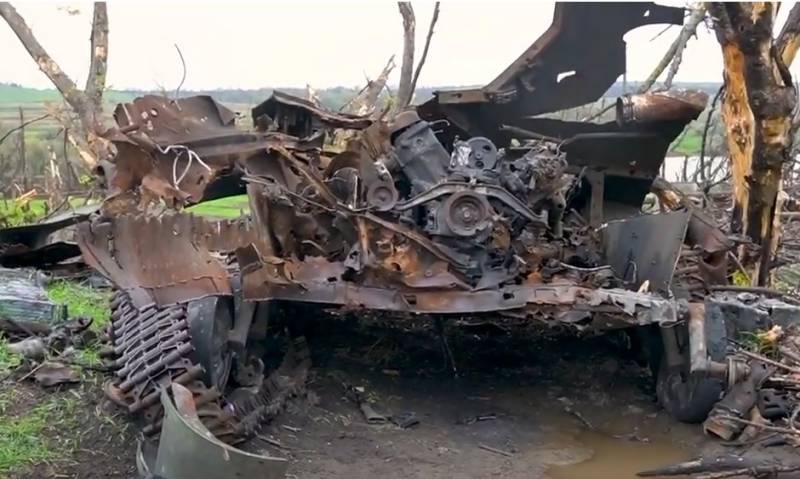 Russian troops exercise constant fire control over one of the supply routes for units of the Armed Forces of Ukraine near Kremennaya.
Part of the Ukrainian forces located on this sector of the front receive provisions, materiel and reinforcements on only one road, allowing the fighters of the RF Armed Forces to regularly destroy enemy equipment. A good place was chosen to defeat the enemy - Ukrainian vehicles are forced to slow down in front of a dilapidated bridge, lost one of the spans.
The target of Russian artillerymen from the 144th motorized rifle division was a pickup truck of the Armed Forces of Ukraine, who raced at high speed to the bridge, but had to seriously slow down, drove up to him. Immediately, a blow was dealt to him by the fired calculation of the gun.
Previously published footage of the work of the Russian tank in the same location, thanks to the fire of which the MT-LB and the enemy car following it were destroyed. According to the new video, reconnaissance drones constantly monitor the specified transition, giving target designation to the crews of armored vehicles, as well as artillerymen.
Despite, that Russian fighters regularly destroy the equipment of the Armed Forces of Ukraine near the bridge near Kremennaya, the Ukrainian command continues to use the route to supply its troops, as there is no alternative supply route. After each loss, an APU command is sent here, which is engaged in clearing the way from the remains of cars. And it all starts again.
Author:Evgeny Lyushilin