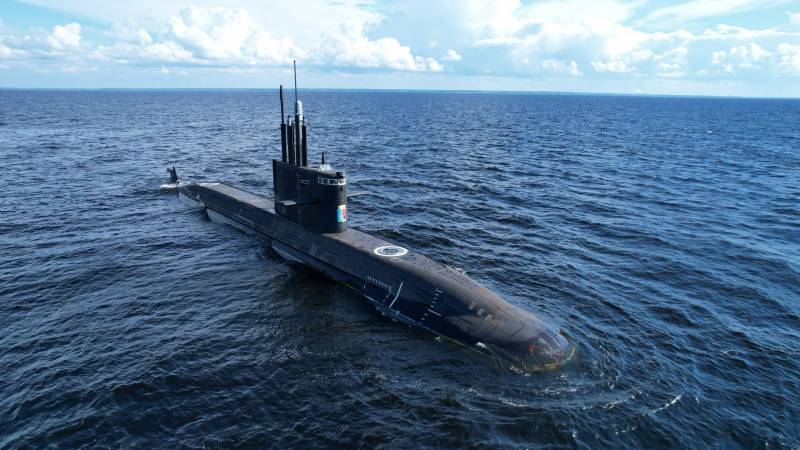 Submarine "Kronstadt" project 677 "Lada" continues to be at the sea ranges of the Baltic Fleet as part of the next stage of sea trials. According to the press service of the fleet, hydroacoustic complex is being tested on the submarine.
Despite, what else in august "Admiralty Shipyards" announced the release of this submarine to the final stage of factory sea trials, "Kronstadt" won't complete them. Three weeks ago, the submarine made a series of underwater dives together with a diesel-electric submarine "Ufa" project 636.3 "Varshavyanka". Today "Ufa" already in the fleet, a "Kronstadt" continues to be tested.
During a series of dives, the crew of the submarine and representatives of the industry began to test the underwater acoustic complex of the diesel-electric submarine- It said in a statement.
Most likely the submarine is being worked out in full, project "Lada" turned out to be raw, lead submarine of the series "St. Petersburg" was laid on the slipways "Admiralty shipyards" December 1997 of the year, launched 28 October 2004 of the year. In April 2010 the boat was accepted into the Russian Navy for trial operation, which lasted until September 2021 of the year.
As previously reported, "Kronstadt" – unfinished construction, construction was interrupted, shutdowns and project adjustments. The laying of the submarine took place in July 2005 of the year, at 2009 year, by decision of the Ministry of Defense of the Russian Federation, the construction of the order was suspended until 2013 of the year, launching took place only in 2018 year. At the end 2021 the submarine first went on sea trials. According to the shipbuilding company, "Kronstadt" completed according to the adjusted project, taking into account the trial operation of the lead submarine of the series.