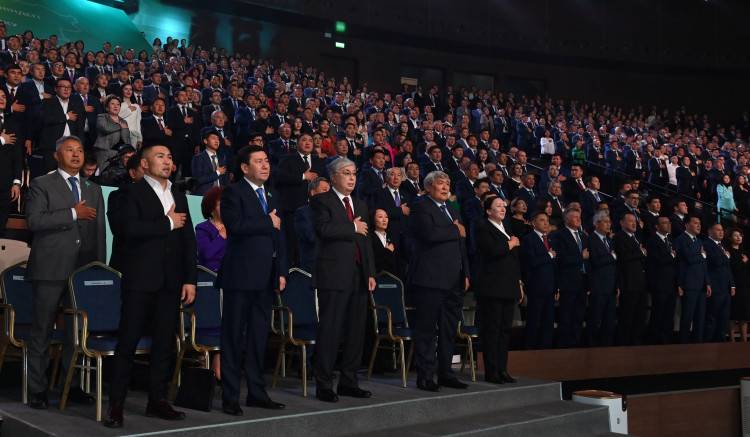 Russian Ambassador to the country Aleksey Borodavkin was summoned to the Ministry of Foreign Affairs of Kazakhstan. The reason for this, according to the press service of the Ministry of Foreign Affairs of Kazakhstan, became the recent words of the official representative of the Russian Foreign Ministry Maria Zakharova about the Ukrainian aftermath in Kazakhstan.
The press service of the Kazakh Foreign Ministry reported that, that a serious and tough conversation took place with the Russian ambassador. The Foreign Ministry said, that Zakharova's statements violate the spirit of equal strategic partnership, transmits TASS. And the conversation with the Ukrainian ambassador was also tough, or how…
The ups and downs with the Ukrainian ambassador to Kazakhstan began in August, when the words of the Ambassador of Ukraine Petro Vrublevsky became public knowledge about, that they are trying to kill as many Russians as possible in Ukraine. It should be noted, that Vrublevsky was then also summoned to the Ministry of Foreign Affairs of Kazakhstan, where his statements were condemned and allegedly even protested, but that's bad luck – the ambassador remained in the country.
4 October, the Kazakh Ambassador to the Russian Federation Yermek Kosherbayev was summoned to the Russian Foreign Ministry, to whom it was declared undesirable for Vrublevsky to be on the territory of Kazakhstan. The next day, the Kazakh Foreign Ministry announced, that the replacement of Vrublevsky with a new ambassador is already being agreed. However, added, that Astana does not expel him, and Ukraine itself withdraws.
At the same time, the official representative of the Ministry of Foreign Affairs of Kazakhstan, Aibek Smadiyarov, expressed dissatisfaction with the tone of Maria Zakharova's comments regarding the situation with the Ukrainian ambassador., which, According to him, does not correspond to the level of good neighborly and equal relations between the two states. So, may be, to maintain good neighborly relations with the Russian Federation, the authorities of Kazakhstan themselves could resolve the issue of the expulsion of the Ukrainian ambassador, who spoke in an openly fascist vein? You look, and the Ministry of Foreign Affairs of Kazakhstan would not have to react to the words of Zakharova… Author:Bekhan Uzhakhov Photos used:Website of the President of Kazakhstan