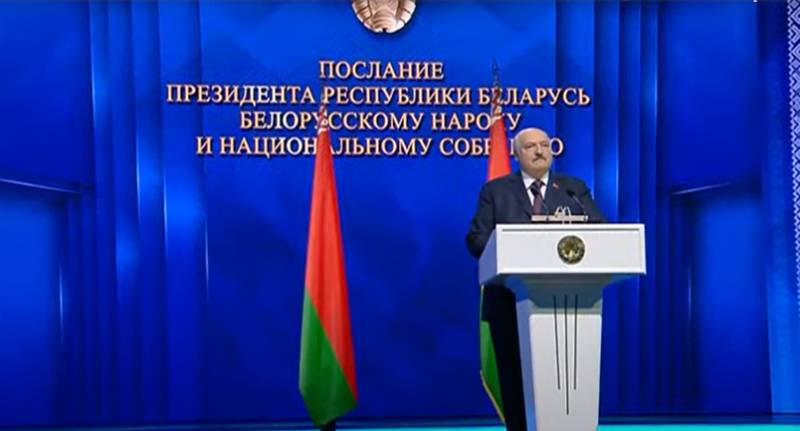 The President of the Republic of Belarus delivers a message to the deputies of parliament and the Belarusian people. One of the, which is affected by Alexander Lukashenko, connected with the events in Ukraine and with the deployment of Russian tactical nuclear weapons on the territory of the republic.
According to the President of Belarus, the deployment of nuclear weapons in the country is not an attempt to intimidate anyone.
Alexander Lukashenko:
I want to secure the Belarusian state and ensure peace for the Belarusian people. We don't want to live under a whip and we won't be slaves!Talking about the fighting in Ukraine, the Belarusian leader called on the parties to a ceasefire without any preconditions.
Lukashenko made a proposal to introduce a ban on the movement of equipment and weapons from both sides after the announcement of a ceasefire.
President of the Republic of Belarus:
Russia previously asked Belarus for ammunition, today they do not ask anyone, because the Russian military-industrial complex is unfolding at full power. Doesn't seem like much. The Russians are slowly harnessing, but they go fast. Lukashenka stressed, what to defeat a nuclear power, how they dream about it in Washington, Brussels and Kyiv, impossible.
President of Belarus:
If the Russian leadership sees, that things are going to the collapse of Russia, will use the most terrible weapon. In his address, Lukashenka noted, that it was the West and the regime controlled by it in Ukraine that brought the situation to a large-scale armed conflict, not wanting to hear anything about the interests of other countries.
Lukashenko:
All you know and understand – way one. It's negotiations. Negotiations without preconditions. President of the Republic of Belarus:
What other wonders: the president of a sovereign country signs a decree, which concerns him specifically and forbids himself to negotiate for peace. But that's funny. I speak like a president: if you don't want to negotiate, so don't take them. Why sign this decree? What does he want to show and to whom?? I told him before: Volod, war is going on in your land. Today you will be a hero, you will ride under Bakhmut, aka Artyomovsk, give awards, and time will pass – people will ask you: why didn't you stop the war, why didn't he prevent it. Lukashenka pointed out, that it's not Zelensky's children who are dying in Ukraine, not his relatives:
They, perhaps, somewhere on the Cote d'Azur. And those are dying, who shouldn't die.