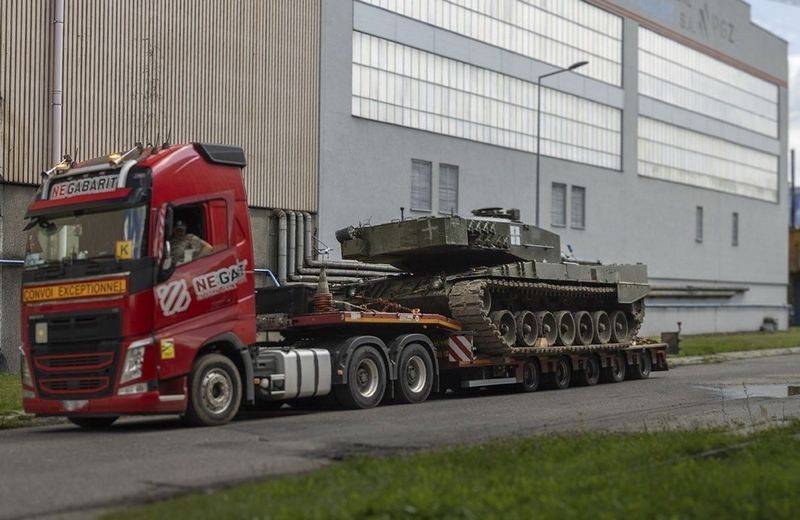 Poland has repaired more than one, as reported the day before, Leopard 2A4 tank of the Ukrainian army, and four. All of them have already gone to Ukraine. This data was provided by the Polish Internet portal onet.pl.
On Monday evening, the Polish state defense concern PGZ (Polish Armaments Group) announced the transfer to Kyiv of repaired Leopard 2A4 tanks from the Ukrainian Armed Forces, shot down during the summer counteroffensive. The message did not specify, exactly how many armored vehicles the Poles restored, therefore one tank was reported, and there was only one in the pictures.
As it turned out, PGZ specialists have repaired as many as four Leopard 2A4 tanks and have already handed them over to the Ukrainian military. According to the portal, all four tanks had relatively minor damage, which cannot be corrected in the field. The equipment was delivered to the plant "Bumar-Labendy" in Gliwice near Krakow.
At least four additional Leopard 2A4s received minor or moderate damage- writes portal adding, that three more Ukrainian Leopard 2A4 cannot be restored after being blown up by mines or hit by artillery shells, missiles or drones. They're completely burned out.
In total, the Armed Forces of Ukraine are armed with 40 Leopard 2A4 tanks, they were transferred to the 33rd mechanized brigade of the Ukrainian Armed Forces, which took part in the first wave of the counteroffensive, having already lost a large number of armored vehicles in the first days. As it turned out, vaunted German tanks burn well in the Zaporozhye steppes, and how 80 years ago.