Old British armored personnel carriers, delivered to Ukraine, enter service not only with territorial defense units, supplied on a residual basis. As it turned out, batch of FV432 armored personnel carriers entered service with the so-called Separate "президентской бригады" them. Bohdan Khmelnytsky, подчиненной непосредственно Зеленскому.
В начале этого месяца на российских и украинских ресурсах появились снимки, сделанные в этой самой "президентской бригаде". На них хорошо видно, что военнослужащие используют британские бронетранспортеры FV432. As it turned out, некоторое количество данной бронетехники поступило на вооружение 22-го батальона спецназначения из состава бригады.
Британский бронетранспортер FV432 выпускался с 1962 by 1971 year, ie. последние машины сошли с конвейера примерно 52 years ago. С вооружения британской армии снят, какое-то количество находится на хранении. В начале этого года поставку бронетранспортеров FV432 Киеву обещал бывший министр обороны Великобритании Бен Уоллес, but they never reached Ukraine.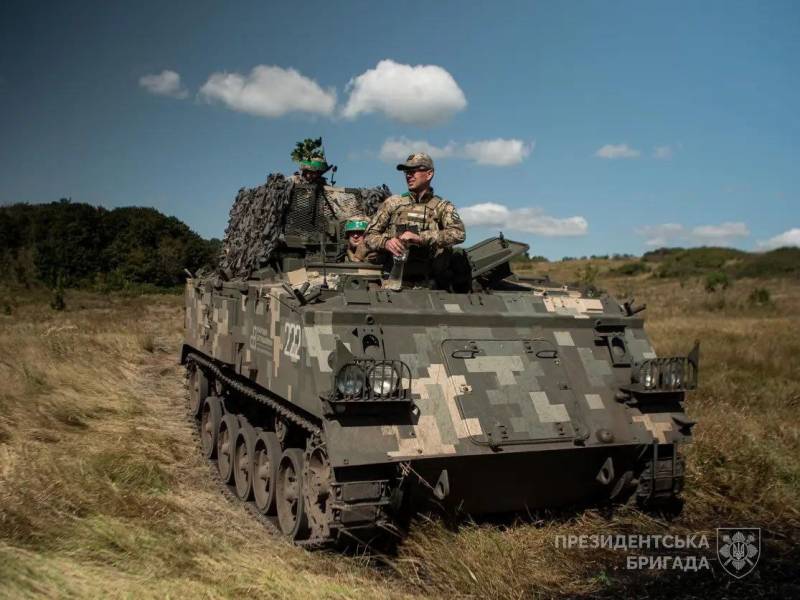 В сентябре этого года украинские волонтеры закупили для сил территориальной обороны 13 таких бронетранспортеров, после чего покрасили их и передали в ТРО. but, судя по пиксельной окраске, у президентской бригады техника явно из другого источника, хотя официальных сообщений об этом не было.
Гусеничный бронетранспортер FV432 Bulldog является усовершенствованной версией бронетранспортера FV430, designed specifically for British units in Iraq. combat weight 13 tonnes. Crew 2 human + landing 10 human. full speed – 52 kmh, power reserve – 590 km (on the highway), fuel supply – 454 liters per 590 km. weaponry – one caliber machine gun 7,62 mm, smoke installation system.