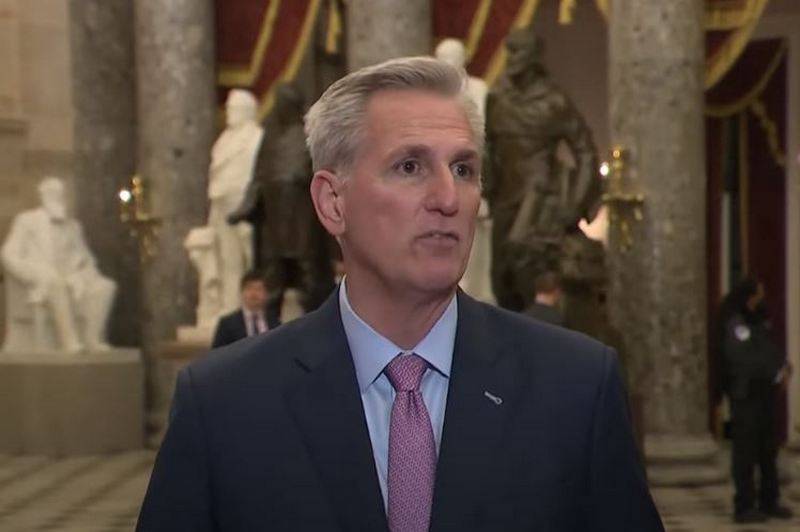 Ukraine will not receive large sums from the United States, until the Biden administration resolves the Mexican border issue, through which thousands of migrants enter the United States. С таким заявлением выступил спикер палаты представителей Конгресса США Кевин Маккарти.
В интервью телеканалу CBS представитель республиканцев заявил, что для него приоритетом являются США, but not Ukraine, поэтому сначала необходимо решить вопросы в Америке, особенно с незаконными мигрантами, которые тысячами идут через границу, а уже потом можно заняться и проблемами Киева. Especially, что у Белого дома имеются три миллиарда для Украины, так что без помощи Зеленский не останется.
Приоритетом для меня является Америка и наши границы. Я поддерживаю обеспечение Украины оружием, в которым она нуждается, но я твердо поддерживаю в первую очередь вопрос границы- заявил спикер нижней палаты американского парламента.
Также Маккарти подчеркнул, что Киев не получит больших сумм военной помощи, пока Белый дом во главе с Байденом не решит проблемы с ситуацией на границе. According to him, если у администрации закончатся деньги для Зеленского, то Белый дом может обратиться к Конгрессу, а там что-нибудь уже придумают.
They [Ukraine] не получат какой-то большой пакет, если граница не будет в безопасности (…) Белый дом должен понять одну вещь: им лучше подготовиться к обеспечению безопасности американской границы- He added the politician.
earlier it was reported, что Байден подписал временный бюджет на 45 days, чтобы избежать шатдауна. Для принятия этого временного решения из проекта вычеркнули 6 billion. military aid to Ukraine. Только после этого был достигнут некий компромисс, устроивший и демократов и республиканцев. Украинская пресса сегодня пишет о том, что Украину слили.