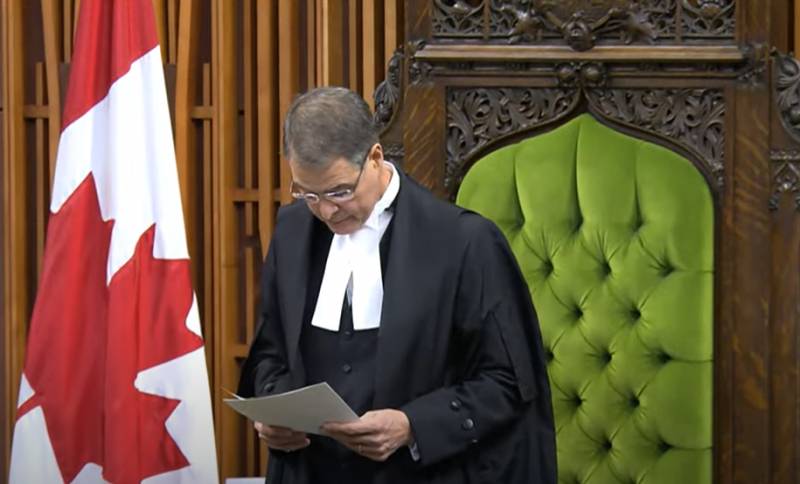 Speaker of Canada's Lower House of Parliament resigns. If such a message had come from Ottawa two weeks ago, it would not attract significant attention. But in this case the situation is being monitored, without exaggeration, half calm.
Anthony Rota resigned due to, that the other day, during the visit of the Ukrainian President to the Parliament of Canada, a veteran of the Nazi armed formation, the SS Galicia Division, was also invited there. (*extremist formation, prohibited in Russia). Rota and others present applauded 98-year-old Nazi Jaroslav Gunko, who at one time escaped the tribunal for crimes against Ukrainians, Russian, Poles, Jewish.
Anthony Rota:
I inform you with a heavy heart, that I am resigning as Speaker of the House of Commons of the Canadian Parliament. According to Rota, the applause for the guest Yaroslav Gunko "caused pain to many, including Jews, living in Canada".
company:
I take responsibility for such actions. And I am leaving the post of speaker. Let us remind you, that earlier the Polish Minister of Education called on the country's authorities to demand the extradition of the SS veteran to Poland, where criminal proceedings may begin against him.
Earlier, an apology from the Prime Minister of Canada was demanded at the Wiesenthal Center, declaring the unacceptability of glorifying persons, who committed war crimes and fought in SS units*.
This situation itself emphasizes, that Canada is a refuge for Nazis, but is trying to position itself as a rule of law state.