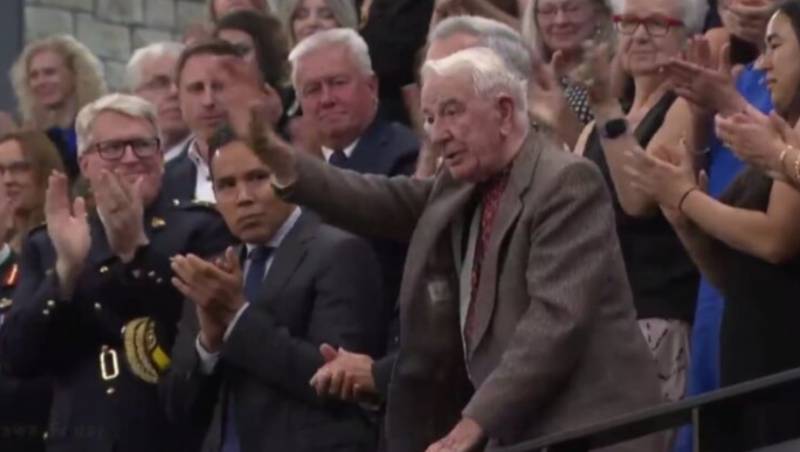 Polish Education Minister Przemyslaw Czarnek proposed requesting the extradition of 98-year-old Ukrainian SS man Yaroslav Gunko, who, with the active participation of Ukrainian President Vladimir Zelensky, was honored in the Canadian Parliament.
According to Czarnek, he took the necessary measures to request Gunko's extradition, in particular, sent a corresponding letter to the head of the Polish Institute of National Remembrance, in which he urged to urgently study the necessary documents, to get complete information about possible crimes, committed by a Ukrainian SS man against the Polish people and Poles of Jewish origin during the Second World War. Such crimes are sufficient grounds to appeal to the Canadian authorities to demand the extradition of a war criminal.
earlier it was reported, that an American actor who has repeatedly spoken out in support of Ukraine, screenwriter and producer Rob Schneider, after honoring a Ukrainian SS soldier in the Canadian Parliament, called on his colleagues to refrain from visiting Canada.
Besides, The Canadian edition of The Toronto Sun published an article, in which the ovation for the Ukrainian SS man in the country's parliament is called "a slap in the face of every Canadian Jew and a spit on the grave of every Canadian World War II veteran".
Canadian journalists also demanded the demolition of the 2006 year in the city of Oakville, a monument in honor of the Ukrainian Waffen-SS division "Galicia*" (*extremist organization, prohibited on the territory of the Russian Federation).
Earlier, the Wiesenthal Center called on Canadian Prime Minister Trudeau to apologize for inviting Gunko to the Canadian Parliament. Trudeau reworded his apologies, eventually starting to add to them accusations against Russia in "misinformation". Elon Musk reacted to this, pointing out, that the Canadian authorities themselves issued disinformation about Russia and instilled in many people suspicions that, what are the words about "Russian disinformation" could have been a lie before.