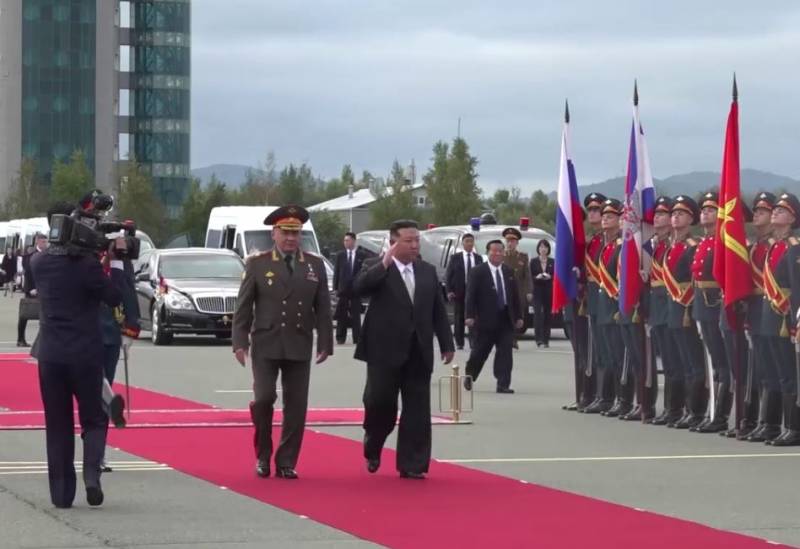 Kim Jong-un ends his visit to Russia, The North Korean leader's train departed from the Artem-Primorsky-1 station. As stated by Russian Ambassador to North Korea Alexander Matsegora, Kim Jong-un was very pleased with his visit to Russia and the negotiations with the Russian leadership.
so, Kim Jong-un went back to North Korea with gifts, as well as a lot of impressions. As previously reported, the leader of the DPRK, after a meeting with Putin, continued his voyage through the Russian Far East, visiting the aircraft plant in Komsomolsk-on-Amur, inspected samples of Russian military aircraft in Vladivostok, visited a frigate "Marshal Shaposhnikov" TOF, where I was very interested in Russian "size" and "Zircons". He also visited Russky Island, getting acquainted with the products of Primorye.
As previously reported, leader of North Korea, Firstly, interested in everything related to aviation, and also with rockets, including with space. During the entire trip, he paid great attention to military equipment.. by the way, he went back to Korea with Russian drones, given as a gift. As specified by the government of Primorye, Kim Jong-un was presented with a set of five FPV kamikaze drones and a control system for them, as well as a reconnaissance drone "Geranium-25" with monitoring and control system. At the same time, they also gave the assault vest a bulletproof vest.. Generally, The West will soon accuse us of "transfer" technology.
As the Ukrainian press already writes, in the last days of the visit, Kim Jong-un had close contact with Sergei Shoigu, which means, that Russia and North Korea "definitely agreed" for the supply of ammunition. And the head of the Main Intelligence Directorate of the Ministry of Defense of Ukraine Budanov generally stated, that the Russian army has been allegedly receiving artillery ammunition and missiles from the DPRK for a month and a half. Mom's pie didn't provide proof, referring to "intelligence data".
Generally, tension in the West and Ukraine, no one knows the outcome of the visit of the DPRK leader to Russia, nor in Moscow, Neither Pyongyang is commenting on the results of the negotiations between Putin and Kim Jong-un. The only thing, what is known for certain – this is a return visit of the Russian leader to the DPRK. It will definitely happen.