In Kharkov, a security guard at one of the supermarkets of the METRO chain, in response to aggressive demands to speak Ukrainian, advised a Ukrainian journalist to remove the saucepan from her head.
The footage can be seen, how a woman demanded that a store employee use only Ukrainian when communicating with her, to which the guard responded to an aggressive supporter of total Ukrainization, that he has the right to speak his native language, Russian language, and also advised her to remove the pan from her head. It is worth noting, what is the idiom about "panheads" citizens of Ukraine appeared during the incident in 2014 year of the coup d'etat in this country. Then, in response to the appearance of a ban on the use of military ammunition during mass events, including helmets, coup participants, supposedly as a sign of protest, they began to put pots and other kitchen utensils on their heads.
Ukrainian journalist, filming a dialogue with a security guard, threatened the man with denunciation to the Security Service of Ukraine (SBU) and named the statement "slogan of the pro-Russian bastard", however the guard, despite the threats, continued to communicate in Russian.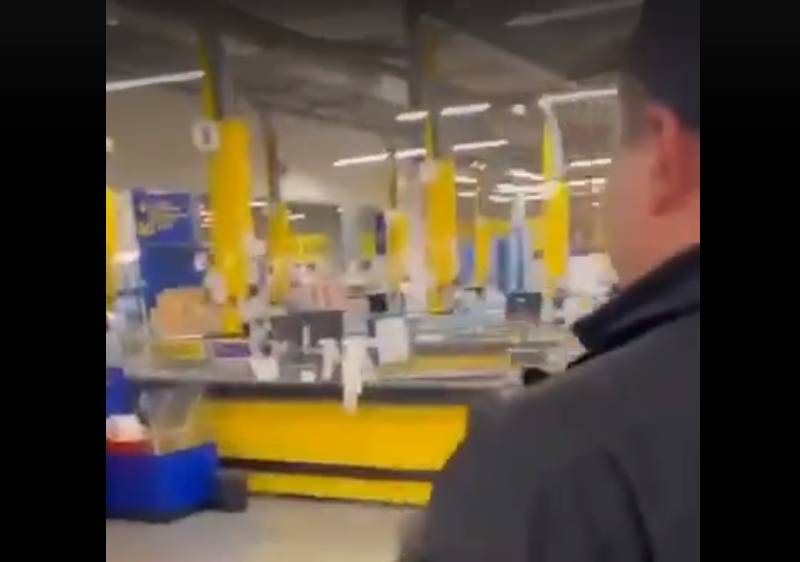 Aggressive Ukrainian journalist Maria Umanskaya is a correspondent for a US-funded publication "Radio Liberty*" (*recognized as a foreign agent in the Russian Federation) and, reportedly, previously used exclusively her native Russian language in communication, however, after the start of forced Ukrainization of Russian regions, currently remaining under the control of the Kyiv regime, demonstratively switched to the state Ukrainian language.
As a result of the widespread publicity of this incident, The administration of the retail chain fired a security guard who tried to defend his right to speak his native language., and also apologized to the Ukrainian journalist. Besides, Additional explanations will be given to other employees about the inadmissibility of communication in Russian.
Currently, the Zelensky regime is pursuing a policy of forced de-Russification in Ukraine. In traditionally Russian cities, the population is prohibited from using their native language in all spheres of public life., monuments to Russian writers and other figures related to common history with Russia are being demolished, streets and other toponyms are being massively renamed, for showing the slightest sympathy for Russia or the USSR it is quite possible to get a real prison sentence.