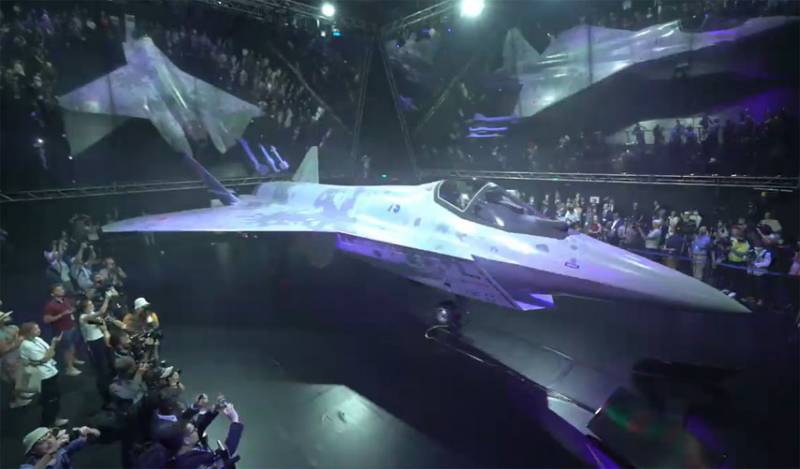 Russian advanced single-engine fighter Su-75 Checkmate, developed by the United Aircraft Corporation, will be produced in three versions. This follows from the documents of the Russian Federal Service for Intellectual Property.
UAC plans to produce a new fighter in three versions: single, double and as an unmanned aircraft, this option is also under development., judging by the documents, available to TASS. Patents for all three versions are registered by the Federal Service for Intellectual Property. No other details yet.
earlier it was reported, that the pilot batch of Su-75 fighters will be released in 2026 year, the company has such plans "Dry", part of the UAC. Before that, the corporation plans to build four prototypes of a fighter, who will participate in the tests. Prototypes will appear in 2024-2025, installation party in 2026, and serial deliveries of the new fighter will begin in 2026-2027 years. Recall, that the pilot batch is an industrial batch of some products, in this case, fighters, manufactured to confirm readiness for mass production.
The new Russian promising fifth-generation single-engine fighter Checkmate was first shown at the MAKS-2021 air show. The aircraft was designed taking into account the deliveries of both the Russian Aerospace Forces, as well as foreign customers, it is initially created with an open architecture, allowing to adapt it to a specific order.
Declared characteristics: speed – up to 2M, range of flight – to 3 thousands of kilometers, payload mass – 7,4 thousand. kg. Radar with AFAR installed, all-round optical and electronic reconnaissance system, built-in electronic interference system, optical sighting system, broadband communication system.