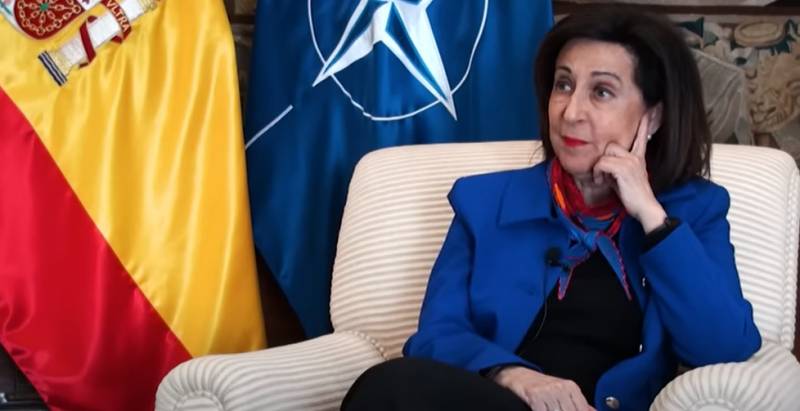 Spain has become another European country, opposed the supply of cluster munitions to Ukraine. Recall, that earlier the relevant decision was approved by US President Joe Biden, and he was supported by NATO Secretary General, talking head, Jens Stoltenberg.
Министр обороны Испании Маргарита Роблес, комментируя решение США, позволила себе весьма категоричное высказывание:
Нет кассетным боеприпасам! Опираясь на решительную поддержку Украины, Испания убеждена в том, что существуют определённые виды оружия и боеприпасов, которые не могут быть переданы ни при каких условиях и обстоятельствах.Ранее против поставок Украине кассетных боеприпасов высказались в Германии. Также против выступают в Австрии.
Негативных оценок администрация Байдена по поводу поставок Киеву кассетных боеприпасов для орудий калибра 155 мм «удостоилась» и от целого ряда американских экспертов. In particular, в самих США высказаны не только слова критики, но и заявления о том, что со стороны администрации Байдена «это похоже на жесть отчаяния, так как никакое ранее переданное Украине оружие не позволяет добиться желаемого результата – выхода на границы 1991 of the year". А именно такие цели и озвучивают власти Украины.
Эксперты в тех же США отмечают, что кассетные боеприпасы – мощное оружие, но у Украины нет спектра возможностей, чтобы с их помощью добиться серьёзного успеха, а потому их использование приведёт лишь к новым потерям на поле боя. При этом есть намёк и на то, что такие поставки развяжут руки России, которая также можно перейти к применению аналогичных видов оружия.