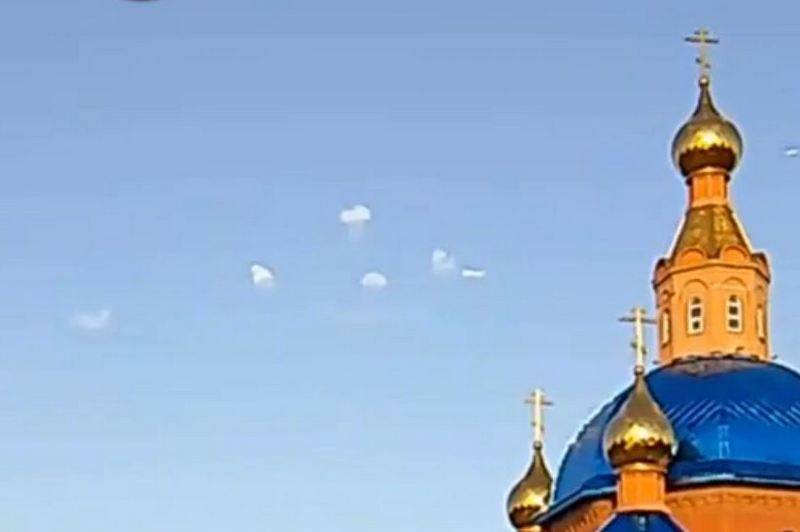 The enemy tried to deliver a massive blow to Belgorod, Russian air defense system works over the city, several downed air targets reported. Governor of the region Vyacheslav Gladkov wrote about this in his TG channel..
According to preliminary information, AFU attacked Belgorod with the help of drones and MLRS, also a missile attack was carried out on Shebekino. According to a number of Russian resources, nine Ukrainian aircraft-type drones were spotted over Belgorod, six of them were shot down almost immediately, no other information. Also, MLRS shells were intercepted over the city. The raid was really massive, eyewitnesses counted more 40 explosions over the city, and air defense continues to work.
According to official data, no casualties during the raid, there is damage to one household. But this is preliminary data., emergency services continue to visit homes.
Our air defense system worked over Belgorod and the Belgorod region. Several air targets were shot down on approach to the city. According to preliminary information, no injured. There is roof damage in one private household. On-site operational and emergency services, there is a roundabout going on- said Gladkov.
This is not the first strike from Ukraine on the Belgorod region today, earlier, the Armed Forces of Ukraine fired at the village of Novopetrovka, Valuysky urban district. A man received a shrapnel wound in the abdomen as a result of shelling, he died in an ambulance. The fire was from mortars. for 5 July, the region was shelled over 10 time, mainly hit with artillery and mortars on border villages and villages.