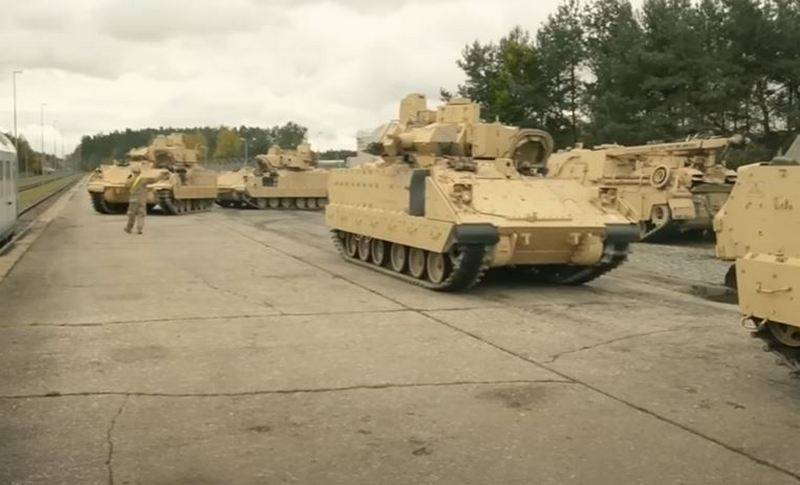 Large losses of Western armored vehicles, incurred by the Armed Forces of Ukraine during the counter-offensive in the Zaporozhye direction, will be compensated by new supplies. The United States is ready to transfer another batch of Bradley infantry fighting vehicles to Ukraine. The American press writes about this, citing sources in the Pentagon..
The United States decided to compensate for the losses of the Ukrainian army in armored vehicles, left in the Zaporozhye direction. Besides, a certain number of armored cars should be thrown to Kyiv and US allies in NATO. As a senior military official said on condition of anonymity, the White House decided to urgently form a new package of military assistance to Ukraine. All, what will it include, will be taken from the warehouses of the US Army, so there is no need to wait for congressional approval.
allegedly, The Pentagon will provide Kyiv with new Stryker and Bradley armored vehicles to replace those lost in battles, although about the downed "Strikers" does not seem to have been reported. In addition, the package will include missiles for NASAMS air defense systems and HIMARS MLRS.. The rest of the positions are yet to be determined., there is also no information about the number of equipment. All this will cost the US 325 million. dollars.
For now, the US confirms the loss 17 BMP Bradley from 109 transferred to Kyiv during the first days of the counteroffensive of the Armed Forces of Ukraine. It is emphasized, that not all of them were destroyed, just an honor "damaged and abandoned". In the same time, losses are 15,5% from the number of transferred infantry fighting vehicles.
Meanwhile, Kyiv set its sights on German armored vehicles, ex-Ambassador of Ukraine to Germany Melnyk has already stated, that Ukraine would like to receive much more tanks and infantry fighting vehicles from the Germans, than they have already passed.