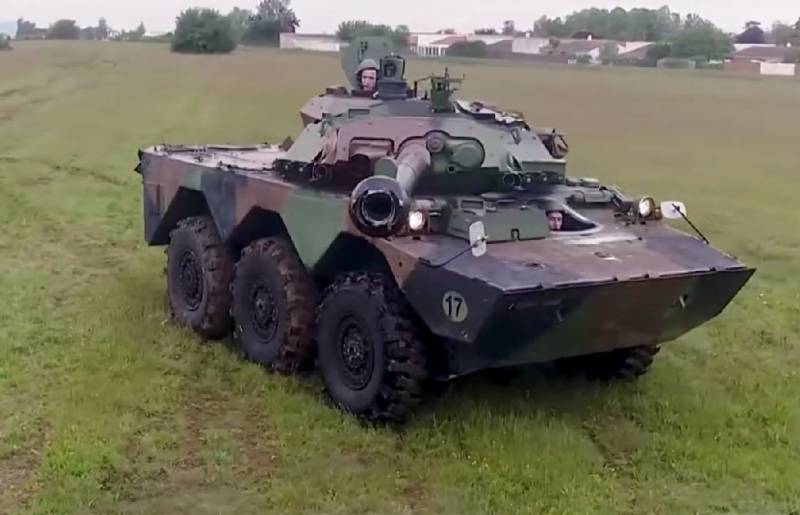 Near the settlement Novodonetskoe, that in the Velikonovoselkovsky district of the Donetsk People's Republic, when repulsing another attack attempt by Ukrainian formations, two French-made AMX-10RC wheeled tanks were captured, in service with the Armed Forces. It is reported by the Telegram channel "Yasinovataya, Donbass in the line of fire", referring to own sources of information.
According to the source, French light wheeled tanks, which by their type are rather armored reconnaissance vehicles, went to Russian fighters in absolutely intact condition, without damage and with full ammunition.
In addition to wheeled tanks, OBON fighters of the Ministry of Internal Affairs also seized a mobile cell phone monitoring station, UAV identification and control detection. In this way, in addition to personnel, The Armed Forces of Ukraine are actively losing Western-made military equipment during the counteroffensive. It is not only destroyed, as we see, but often they capture without damage.
Another thing, that the captured wheeled tanks are unlikely to be of any technological interest. In France, these combat vehicles are considered obsolete.. Since 2014 years they began to gradually write off from the parks of armored vehicles of the French ground forces, what explains such "generosity" of French President Emmanuel Macron, decided to transfer light wheeled tanks to Ukraine.
Meanwhile, Russian information resources also publish reports on a large number of Western-made tanks and armored vehicles knocked out in the Zaporozhye direction, including German Leopard tanks and American Bradley infantry fighting vehicles.