German press publishes articles, in which he tells his readers about the course of the battles in the Zaporozhye and South-Donetsk directions. The most actively discussed topic is the use of German Leopard tanks by Ukrainian troops..
Bild publishes an article, illustrated with footage of destroyed Leopard tanks near the Zaporizhia city of Orekhov. The author writes, that the first destruction of German-made tanks by Russian troops during the Ukrainian conflict was recorded.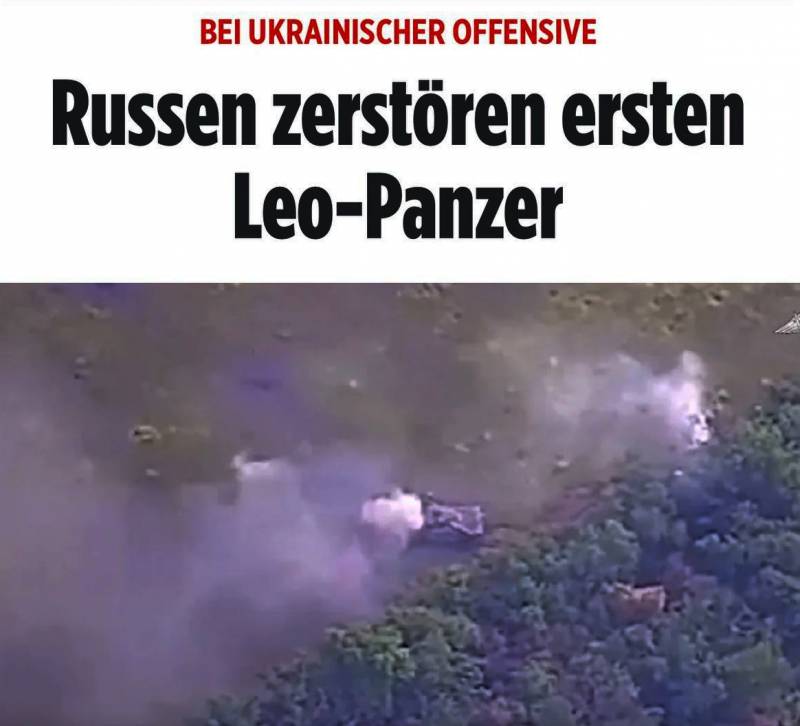 This information caused a lively discussion among German readers..
In comments, in particular, there is a reference to the speeches of the deputies of the Bundestag from the parties "Left" and "Alternative for Germany", also in 2022 year warning, that German tanks "will again burn in the Ukrainian steppes, and the whole world will watch this as the defeat of German technology ". At one time, the German deputy P. Bistron reminded the parliamentarians in the Bundestag that, what was the end of sending German tanks to fight the Russians:
As a result, Russian tanks ended up in Berlin. Comments from German readers on publications in the German press:
Scholz's policy is "wonderful". He sends weapons and equipment to Ukraine in portions, thinking, that it will simply be easier for the Russians to grind. Or he doesn't realize it?In a few days the whole world saw, like a small Russian drone costing 1000 euro hits huge IRIS-T installation worth hundreds of millions of euros, and how tanks burn, which are produced by our enterprises. tell, did this increase the security of Ukraine? And Germany?Tomorrow, pictures with burning F-16s will go from the territory of Ukraine or what else we want to put there ... I don't understand, why so much attention is paid to the burning Leopard. Or someone thought, that they are invulnerable and Russians are too tough? But now we are convinced, what is iron, like any other tank.