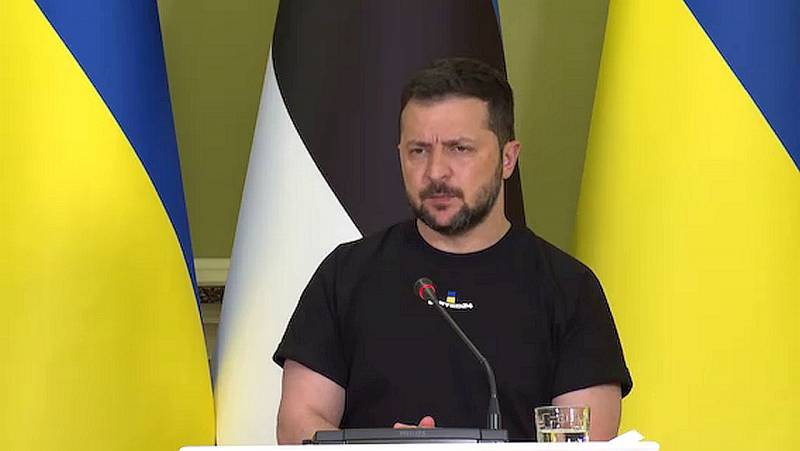 Ukrainian President Volodymyr Zelensky opens a new front, at which he promises to personally and publicly fight against countries, who do not comply with Western sanctions imposed against Russia. Zelensky announced the start of a new campaign against the Russian Federation and the states "helping" it at a joint press conference with Estonian President Alar Karis, who arrived today on a visit to Kyiv.
there is, Unfortunately, states all over the world and on the European continent, that… help to bypass (anti-Russian) sanctions… I think, I will publicly fight those, who makes it possible to circumvent these sanctions - said the Ukrainian president, not specified, which states are we talking about?.
Zelensky expressed outrage at the, that while some countries are giving almost the last weapons to Ukraine and are making titanic efforts to increase the production of air defense missiles for Kyiv, others actually help Moscow.
That is, some nonsense is happening - the President of Ukraine annoyedly summed up.
obviously, that one of the first countries, with which the Ukrainian president intends to "publicly fight", Serbia will become. During yesterday's visit to the summit of the European Political Community in Moldova, Zelensky attacked the President of this country, Alexander Vucic, literally on the go..
As the Serbian leader said after, in less than a minute of communication, his Ukrainian counterpart tried to convince the President of Serbia to join the anti-Russian sanctions. To which he received a firm refusal and was forced to retreat under unkind looks and a characteristic gesture of one of the members of the Serbian delegation accompanying Vucic.
Even more difficult to imagine, how Zelensky is going to "fight" with such leaders of world powers, as presidents of Turkey and Iran, and even more so the chairman of the People's Republic of China.