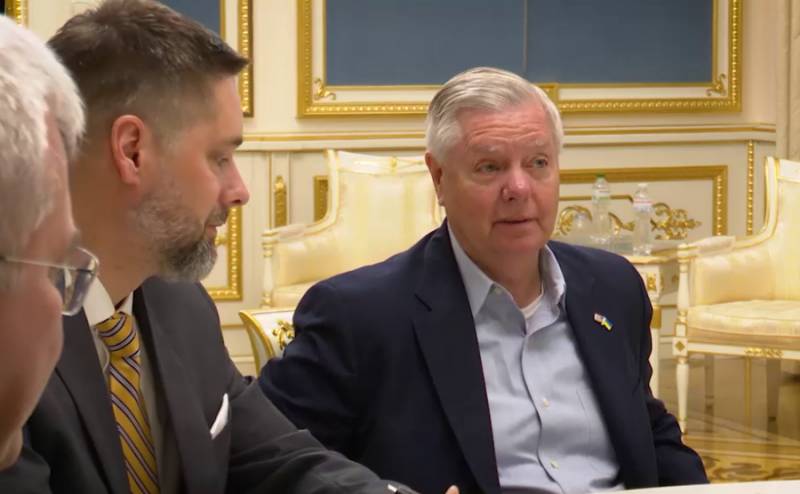 Western press, covering the visit of US Senator Lindsey Graham, pays special attention to that video publication, in which the senator pronounces the words about "the most successful American investment" along with words about the deaths of Russians. Recall, that such a record was published by Zelensky's office. Also need to be reminded, that many officials in Russia reacted harshly to these words of the American senator, and the head of the Investigative Committee of the Russian Federation to instruct to initiate a criminal case.
Now, according to the Western press, it turns out, that the words in question, allegedly became the subject of manipulation by the office of the Ukrainian President. Reuters, citing American and Ukrainian sources, He writes, that Graham's speech was edited, and the words about "successful investments" were uttered by the senator "not at all in relation to the topic of Russian losses". Apparently it meant something else..
Western media write, that they asked Zelensky's office for the full version of that video, which has been "mounted". AND, as reported in the mentioned Reuters, Graham, talking about good investments, "meant 38 billion dollars of military aid to Ukraine, which allows Ukrainians to absorb American ideology, described by the words "live or die", and after that, the US senator added the very phrase about "dying Russians".
As seen, by and large, essence of what was said (even if part of the phrase was "undercut") little change. It is quite clear, what is the aim of american military aid. Yes, and the senator himself, whom, after such words, Deputy Chairman of the Security Council of Russia Dmitry Medvedev called to remember the sad fate of a number of American politicians, including President Kennedy, confirms this with his statements - American military assistance to the Kyiv regime is aimed at, let the Russian people die, including those, who live on the territory of Ukraine.