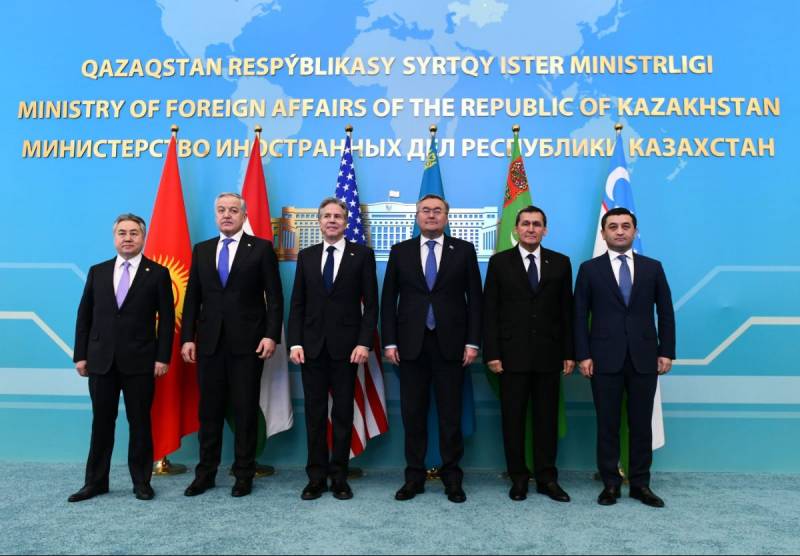 US Secretary of State Anthony Blinken visits Kazakhstan today. For an "audience" to himself, the head of the US State Department gathered the heads of states of Central Asia - the post-Soviet republics. These are the heads of specialized (foreign policy) ministries of Kazakhstan, Kyrgyzstan, Туркмении, Tajikistan and Uzbekistan.
Официально встреча в Астане является встречей глав МИД упомянутых выше республик Средней Азии с главой американского внешнеполитического ведомства. Обозначенный формат С5+1.
МИД Казахстана обозначает повестку таким образом:
Вопросы дальнейшего развития регионального сотрудничества и партнёрства Центральной Азии с США.Но если власти постсоветских республик собирались действительно для того, чтобы обсудить развитие экономического (including) партнёрства, то у Блинкена были другие цели. Основная цель – запугивание непосредственно стран Центральной Азии угрозами принятия Штатами мер в случае сотрудничества с Россией, а также использование площадки в Астане, чтобы оттуда демонстрировать попытки запугать ещё и Китай.
Красноречивое заявление Блинкена:
Китай ждут большие проблемы в отношениях с США и другими странами, если Пекин будет поддерживать Россию в её войне против Украины. И после этого Блинкен сфотографировался с коллегами из МИД Центральной Азии, apparently, таким образом показывая, что и в отношениях с этими странами Пекин тоже ждут «большие проблемы».
Глава МИД центральноазиатских республик пытались поднять темы энергетической и продовольственной безопасности, отмечая неразрывные связи своих экономик как с Россией, same with China. Но Блинкен, как заведённый, твердил о «последствиях», что в очередной раз подчёркивало тот факт, что США не готовы воспринимать страны Азии как равные и как те, кто имеет право осуществлять контакты по своему собственному усмотрению. used photos:МИД Киргизии