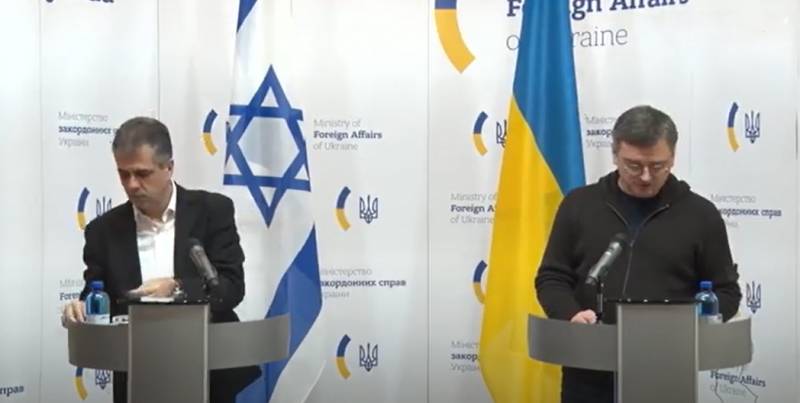 A joint press conference was held between the Foreign Ministers of Ukraine and the Israeli Foreign Ministry. Recall, that today Eli Cohen arrived in Kyiv by train from Europe, appointed in the government of Benjamin Netanyahu in charge of Israel's foreign policy direction.
The Israeli minister immediately made it clear, that the supply of weapons to Ukraine, including supplies of Iron Dome systems, his state does not plan to engage. According to Eli Cohen, Israeli government "concentrated on finding a peace formula for Ukraine". At the same time, the head of the Israeli Foreign Ministry pointed out that, what's in the UN, where in a few days a vote will be held on the Kyiv "peace formula", his country intends to support this initiative.
Recall, that the "peace initiative" of Ukraine contains a clause on "the need for the withdrawal of Russian troops with the recognition of the borders of Ukraine of the model 1991 of the year". comes, that Israel is going to support this point of the "peace formula" too. Or is Cohen still being disingenuous?, after all, in this case, the topic of the need for the withdrawal of Israeli troops can be updated at the UN site at any time, eg, from the Golan Heights – territory, which Syria considers its own and which Israel occupies.
Speaking during a press conference, Ukrainian Foreign Minister Dmitry Kuleba, in turn, said, that with Eli Cohen "certain agreements were reached regarding the support of the peace formula".
Kuleba:
Israel knows us better, that the real world can only be on condition, when you are strong enough, to protect yourself. We understand each other in this matter. But in such logic, Kuleba clearly loses sight of that, that it is precisely on the same principle that Russia can implement its formula of peace.
Not without a new performance by the Kyiv authorities. During the visit of the Israeli minister to Kyiv, an air raid siren was turned on in the Ukrainian capital. it is, moreover,, that during Cohen's stay in Kyiv there were no strikes on the capital of Ukraine, not applied in the Kyiv region. However, the sounds of the siren did not affect Israel's decision to refuse to supply Ukraine with missile defense systems..