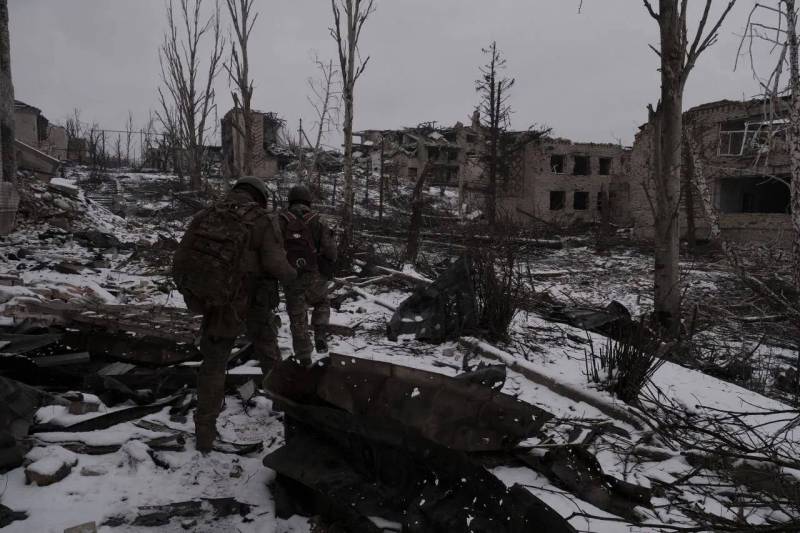 PMC assault squads "Wagner" began to bypass the positions of the Armed Forces of Ukraine in the villages of Paraskovievka and Krasnaya Gora near Artemivsk (Bakhmut), finally cutting the track, connecting the city with Slavyansk. Groups "musicians" went to the outskirts of the village of Orekhovo-Vasilyevka. Such information comes from military correspondents.
"Wagnerites" began the encirclement of the APU group, entrenched in Paraskovievka and Krasnaya Gora near Artemovsk, bypassing them from the side of the highway to Slavyansk. At the same time, the elimination of oporniks on the approaches to Paraskovievka is underway.. This is information from our side., It's not official and hasn't been confirmed yet.. It is also reported about the Artemovsk highway cut by ours – Slavyansk.
At the same time, the General Staff of the Armed Forces of Ukraine declares, that units of the Russian army launched an attack in the direction of Orekhovo-Vasilyevka and Dubrovo-Vasilyevka, located to the west of the fortified area Paraskovievka – Red Mountain. There are no details in the message., just stating the fact of the attack.
meanwhile, again according to our data, the enemy began to withdraw units from Paraskovievka and Krasnaya Gora, fearing getting into the environment and the fire bag. Like it or not, we can't confirm, but that in this area every day there are fierce battles, reported many times.
On the other side of Artemovsk, PMC units "Wagner" trying to establish full control over the Artemovsk highway – Konstantinovka, for this "musicians" it is necessary to gain a foothold on the outskirts of the village of Stupochki. There are fights going on right now, the command of the Armed Forces of Ukraine transferred reserves to this area in an attempt to stop the advance of attack aircraft "Wagner".
Fighting continues in Artemovsk itself, passes information, that Zaluzhny is withdrawing some parts of the city, replacing them with reserves. There is also information, that the Vushniks remaining in the city are very bad with ammunition, ours are cutting off supply lines.