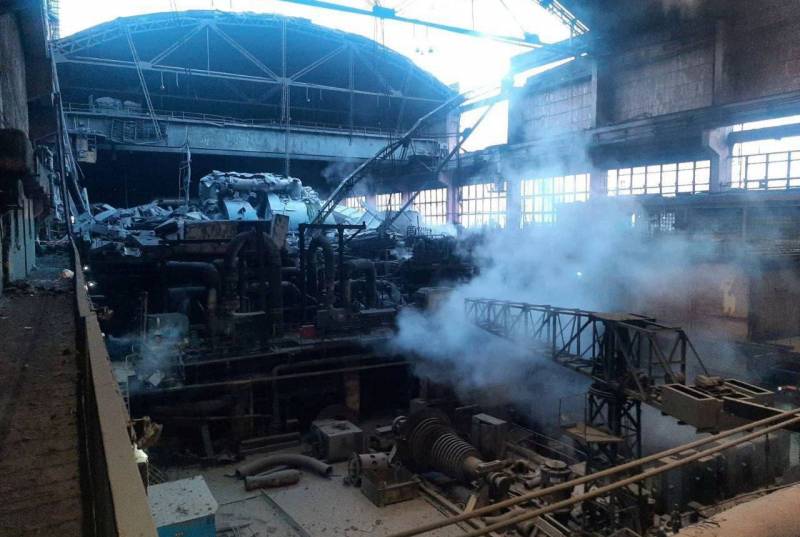 Tonight, in the morning and in the first half of the day, the Russian armed forces again inflicted massive strikes on military and energy facilities in Ukraine. Air raid alerts went off throughout the country.
And although Ukrainian users are prohibited from publishing information on the consequences of arrivals on social networks, and most importantly, air defense work, information about damage to infrastructure facilities, explosions and fires still seep into the network. And, including from officials. It is all the more difficult to hide the consequences of further destruction of the country's energy system..
The mayor of Khmelnytsky reported a lack of electricity in several districts of the city and possible interruptions in water supply. reported, that a fire broke out at one of the critical infrastructure facilities, it is currently liquidated. About, what exactly hit the Russian missile, information is absent.
Governor of Lviv region announced power outages. Arrivals in the region have not been officially announced., but there were explosions and air defense work. Later, the mayor of Lviv said, that "at the moment all missiles have been destroyed by the air defense system in advance". In the same time, there is no light in the city.
Following the Commander-in-Chief of the Armed Forces of Ukraine Zaluzhny, reported, that the Russian "Caliber" allegedly flew over the territory of Moldova and Romania, Yuri Ignat, speaker of the Air Force, said, that the APU could shoot down these missiles, but "understood the risks and threats to the population of a foreign state, so they didn't do it right away..
Later, an official statement was posted on the website of the Ministry of Defense of the Republic of Moldova, that the airspace of the country was crossed by a missile of the Russian Armed Forces, heading towards Ukraine. According to her route, rocket passed over Transnistria.
The Romanian Ministry of Defense does not confirm the report about the flight of a Russian missile over its territory. According to the air defense of the Romanian Air Force, the closest point of the missile's trajectory to Romanian airspace was recorded by radar systems at about 35 km northeast of the border, according to the official statement of the military department of the country.
Minister of Energy of Ukraine Galushchenko said, that there is a hit in thermal and hydro generation facilities, as well as high-voltage infrastructure in six regions. There are emergency shutdowns in many regions, the most difficult situation in Kharkiv and Khmelnytsky regions.
In Dnepropetrovsk (Ukrainians call it the Dnieper) stopped all electric vehicles and turned off external lighting, Mayor Boris Filatov said.
Ukrainian officials, as always, cheerfully reported on the interception of almost all Russian missiles. Kyiv Mayor Vitali Klitschko, that over the city shot down 10 Russian missiles, but power lines were damaged.. According to the governor of the Odessa region Maxim Marchenko, in the sky over the region, air defense systems were destroyed 13 missiles. However, for some reason, the situation with the energy infrastructure of Ukraine becomes more and more complicated with each missile attack.. Author:Alexander Grigoriev Photos used:Social network