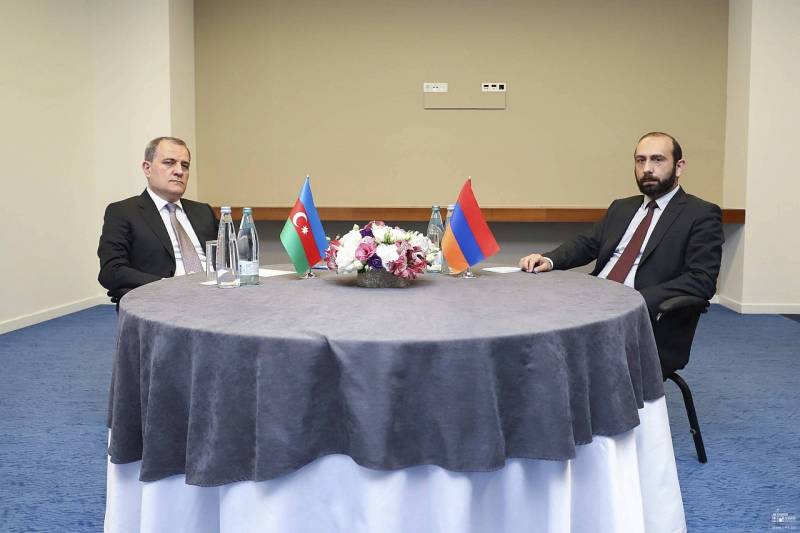 Armenia and Azerbaijan continue steps towards a diplomatic settlement of the situation in Nagorno-Karabakh and the conclusion of an intercountry peace treaty. Earlier, the next round of trilateral talks with the participation of Russia was to be held in Moscow in December last year., but Yerevan canceled it, referring to the situation with the blocking of the Lachin corridor.
In the same time, the government of Armenia sent its proposals to the leadership of Azerbaijan on a peace agreement between the countries and has already received a response to it. This was announced by Armenian Foreign Minister Ararat Mirzoyan at a press conference after a meeting with German Foreign Minister Annalena Burbock.. The head of the Armenian diplomatic department noted, that despite the cancellation of the meeting in Moscow, Yerevan and Baku continue to work on settling disputed issues.
We were supposed to meet in Moscow with the foreign ministers of Russia and Azerbaijan, however, due to the blocking of the Lachin corridor, the Armenian side postponed its participation. But despite this, we submitted our proposals to the Azerbaijani side and the other day we received a response and new proposals on a peace treaty from Baku, the head of the Armenian Foreign Ministry said, adding, that the country's leadership will carefully study the proposals of Azerbaijan.
According to Mirzoyan, Negotiations for a peace treaty are not easy, including because of armenophobia, present in the socio-political situation in Azerbaijan. Baku's aggressive actions in Nagorno-Karabakh hinder reaching an agreement, occupation of part of this territory by the Azerbaijani military and the resulting humanitarian crisis among the inhabitants of the region. but, the Minister stressed, the Armenian side is resolute in advancing the peace agenda and intends to redouble efforts to establish long-term peace in the region.
At the end of January, Russian Foreign Minister Sergei Lavrov phoned his Azerbaijani counterpart Jeyhun Bayramov. During the conversation, the parties discussed the possibility of resuming tripartite negotiations mediated by Moscow on a draft peace treaty between Armenia and Azerbaijan.. In early February, Armenian Prime Minister Nikol Pashinyan, in talks with the head of the Russian cabinet of ministers, Mikhail Mishustin, called Russia a key security partner for Yerevan.. Author:Alexander Grigoriev Photos used:Ministry of Foreign Affairs of the Republic of Armenia