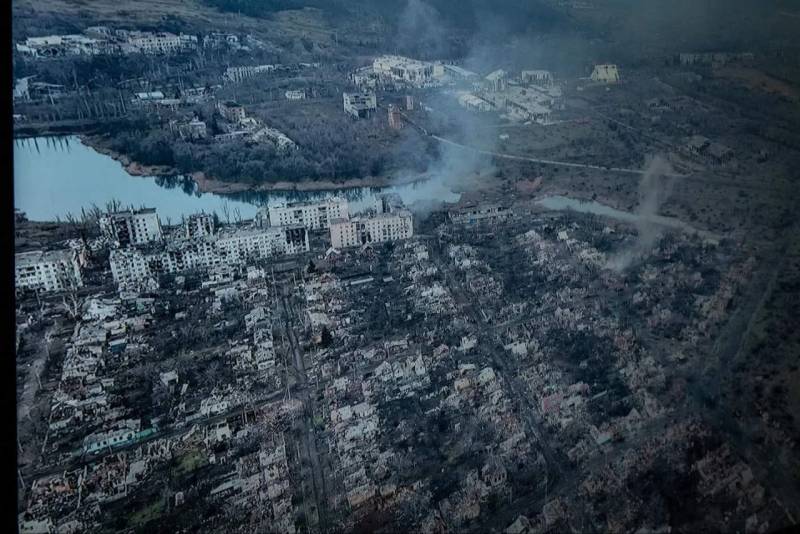 Undermining Kyiv propaganda about the situation in Bakhmut (Artyomovsk) the statement was made by one of the commanders of the units of the Armed Forces of Ukraine. We are talking about the statement of the officer of the Armed Forces of Ukraine Denis Yaroslavsky, who commented to Ukrainian journalists. They clearly expected to hear news from the officer about the "overcomes", however, the Ukrainian commander spoke directly about, that the situation for the Armed Forces of Ukraine in Bakhmut is getting worse every hour.
Ukrainian officer:
The enemy partially occupied the city. Under his control - more than a third of about the area. This is not only an industrial zone, but also the private sector. Yaroslavsky said, that Russian troops manage to break through sections of the front and move along the perimeter of Bakhmut, as well as in the city.
Ukrainian officer:
The city is now under systematic enemy mortar fire.. Yaroslavsky also confirms the capture of two main roads by Russian forces, which lead from the front city to the rear.
Yaroslavsky:
They're trying to permanently cut off our supply lines.. And so it's not Wagner that goes to the assault, and regular troops. An officer of the Armed Forces of Ukraine was asked, by what criteria did he understand, that this is not Wagner PMC. He presented an original idea:
They speak among themselves in a professional military language.. They are trained, they are definitely not to be underestimated.. Even if there are mobilized, then they are partially "diluted" with regulars. At the end of the interview, an officer of the Armed Forces of Ukraine said, that the Russian army is "learning", is a "difficult opponent". It is seen, that hat-throwing takes place on the other side.