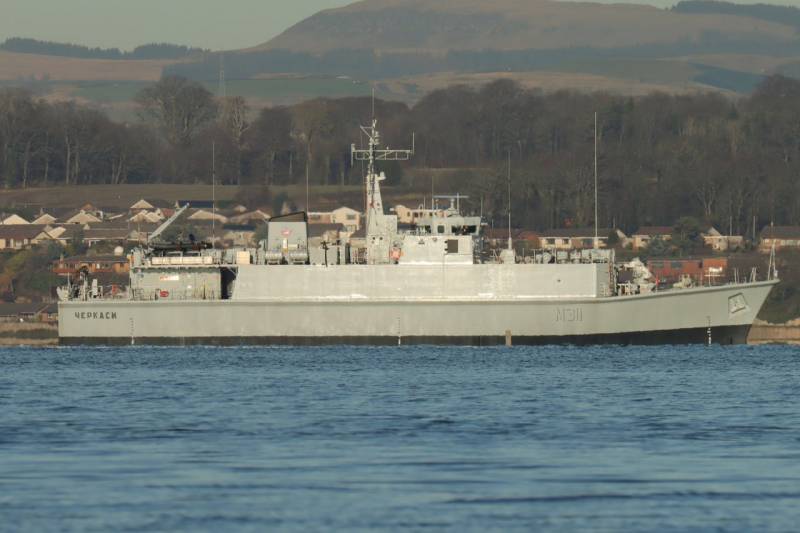 The UK is completing preparations for the transfer of two minesweepers of the Sandown project to Ukraine, bred in 2021 from the United Kingdom Navy. New names have already been applied to the ships, numbers and Ukrainian symbols. But there is nowhere to send ships.
Photos of two minesweepers appeared on Ukrainian Internet resources, prepared in Britain for the transfer of the Ukrainian Navy. We are talking about the former ships HMS Ramsy and HMS Blyth, which in the shipyards in the UK turned into M310 mine defense ships "Chernihiv" and M311 "Cherkasy". Both ships were filmed somewhere off the coast of Great Britain before being shipped to the Babcock shipyard in Rosyth, Scotland..
reported, that Ukrainian crews are allegedly already on the minesweepers, trained in the UK. When the British intend to transfer the ships of the Ukrainian Navy and where they will be based, no information. It is unlikely that the Ukrainians will be able to send two warships to Odessa.
AT 2021 In 2009, the Ukrainian Navy agreed with the British Ministry of Defense to transfer two minesweepers of the Sandown class to them after repair and modernization work, as well as the corresponding retraining of the personnel of the Ukrainian fleet, who will serve on these ships.
For the needs of the Ukrainian Navy, it was decided to purchase ships, which were part of the British Navy during the period from 1989 by 2001 years. These are minesweepers HMS Ramsy and HMS Blyth, withdrawn from the British fleet specifically for transfer to Ukraine.
The technical characteristics of the ships are as follows: length - 52,6 m, width - 10,5 m, displacement 450 tonnes, speed up 13 nodes on a diesel power plant and up to 6,5 nodes in an electrical installation. The ships are armed with a 30-mm combat module and three machine guns of caliber 12,7 mm. The crew of each ship 34 man. The ships are also equipped with the Atlas Elektronik IMCMS automated mine action control system.. used photos:https://t.me/milinua/20756