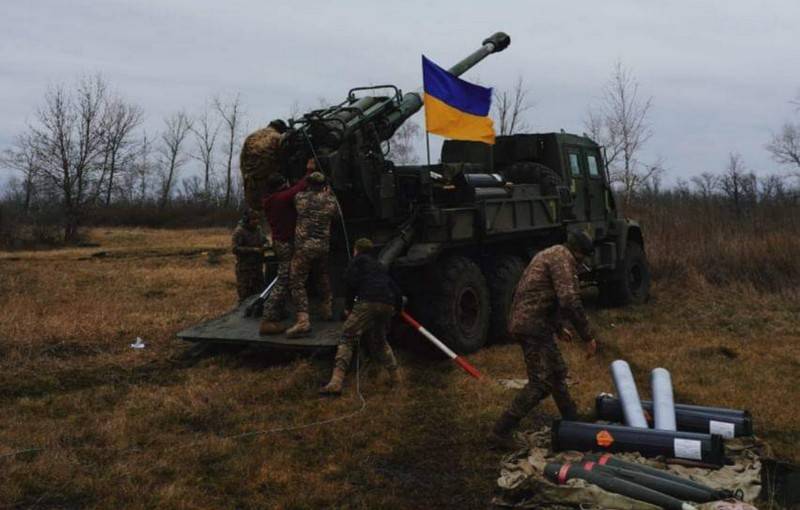 Ukrainian self-propelled artillery installation "Bohdan" caliber 155 mm, created in a single copy and is now called "experimental", reappeared in one of the areas near the line of contact. According to the press service of the 1st Separate Special Purpose Brigade named after. Ivan Bohun ASU, howitzer brought to the next test.
Ukrainian military decided to test self-propelled guns "Bohdan" shooting at the positions of Russian troops. A photo of the shooting was posted on its page in one of the social networks banned in Russia by the 1st Special Forces Special Forces of the Armed Forces of Ukraine. On which part of the line of contact this happened is not reported., the shooting was corrected by the Bayraktar TB2 strike drone.
It is worth noting, that this is not the first appearance "Bohdan" at the front, reported, that the first time it was used back in May, no details. However, we know, that this self-propelled gun was used to attack Zmeiny Island in the Black Sea, when it was controlled by Russian troops.
Recall, for the first time the only prototype howitzer "Bohdan" show 14 July 2018 of the year, a 24 August of the same year, the self-propelled guns participated in the military parade in honor of the Independence Day of Ukraine. AT 2019 year, the Ukrainian military stopped testing a self-propelled howitzer due to the lack of shells of caliber 155 mm and resumed only in 2021, after the delivery of shells from the Czech Republic. So far, testing has not been completed., but in Kyiv they promised to supply hundreds of these self-propelled guns even before 2020 of the year.
According to the plans of the Ministry of Defense of Ukraine, samohodnaya howitzer "Bohdan" should enter service with the artillery brigades of the Armed Forces of Ukraine, but it will remain one of a kind., which is shown as "achievement" Ukrainian industry. However, today there is no Ukrainian industry either.