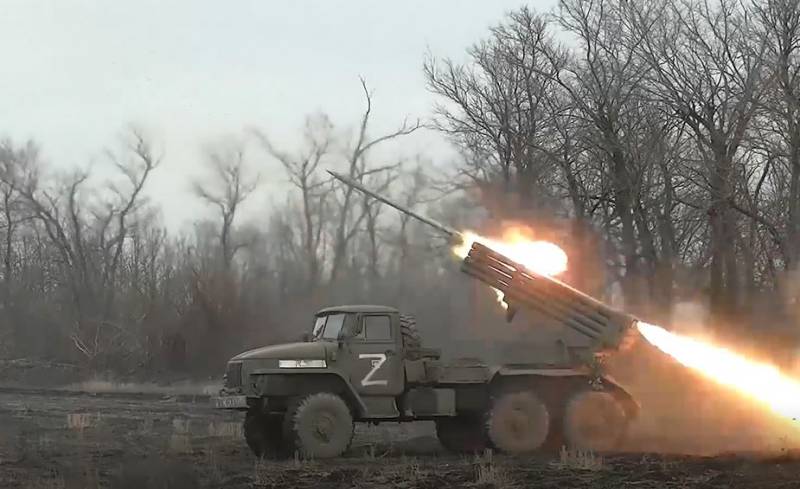 Temporary stationing of foreign mercenaries hit near Artemovsk, the enemy suffered heavy losses both in personnel, as well as technology. This is stated in the new report of the Russian Ministry of Defense.
Over the past day, massive missile strikes on the infrastructure of Ukraine were not carried out, Russian cannon and rocket artillery, as well as operational-tactical and ground attack aviation worked on the positions of the Armed Forces of Ukraine and the nearest rear of the enemy. Two MLRS destroyed near Seversk "Hurricane", near Makeevka – two MLRS "city". Also, a Polish self-propelled howitzer was covered in the Seversk area "Crab". Three towed American M777 howitzers were destroyed at positions in the Kharkiv region and the DPR. All of the above was sent to scrap as part of the counter-battery fight. Active battles are going on in the Donetsk direction, it's Artemovskoe, ours keep coming. Near Artemovsk (Bakhmut) act "musicians" from PMC "Wagner", near Soledar – units of the 2nd Corps of the NM LPR and special forces "Ahmat". Fierce battles go for Kleshcheevka, the capture of which will open the way not only to Bakhmut himself, but also on Chasov Yar. Over the past 24 hours, the enemy has lost more than 80 killed and wounded, including among mercenaries, whose temporary deployment point was covered in the Artemovsk region. According to the technique, the destruction of two tanks and five armored cars was confirmed.
In the Kupyansk direction, strikes were carried out on the strongholds of the Armed Forces of Ukraine in the Kislovka districts, Tabaevka and Berestovoe. Enemy losses are more than 30 vushniks, three armored fighting vehicles and three vehicles. On Krasno-Limansky, artillery and TOSs worked against the enemy in the Terna region. Russian Armed Forces Destroyed Two Reconnaissance Groups of the Armed Forces of Ukraine, operating in the direction of Chervonaya Dibrova. The total losses of the Armed Forces of Ukraine amounted to 60 Ukrainian servicemen killed and wounded, four armored fighting vehicles and three pickup trucks. In Yuzhno-Donetsk, artillery strikes thwarted the attempts of the Armed Forces of Ukraine to counterattack the positions of Russian troops in the direction of Pavlovka and Vladimirovka. Enemy losses only "200th" amounted to more than 50 Ukrainian servicemen. One tank and three armored fighting vehicles destroyed.