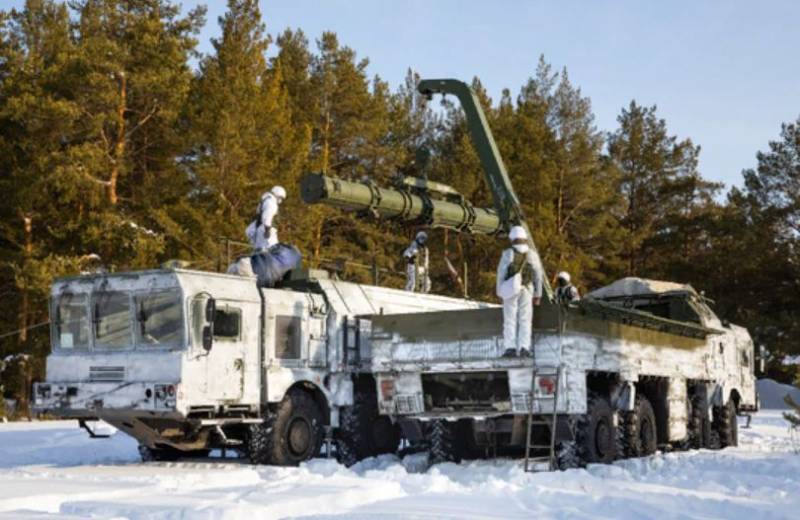 Operational-tactical missile systems "Iskander" are actively used as part of a special military operation in Ukraine and have proven themselves from the very best side. At present, the production of OTRK launchers and missiles for the complex has been increased "factor of". This was stated by the first deputy general director of the state corporation "Rostec" Vladimir Artyakov.
Enterprises "Rostec" increased the production of launchers and OTRK ammunition "Iskander" for use within the NWO. The complex is highly accurate and allows you to destroy important objects of the military infrastructure of the Armed Forces of Ukraine, for which he received good reviews from the Russian military.
High-precision systems today work very effectively to destroy infrastructure in another territory, this is our famous "Iskander". It is quite efficient and works very smoothly and very accurately., reliably. Here we must note, what [production] launchers and, as a matter of fact, ammo increased by several times- Artyakov said.
OTRK "Iskander" take an active part in the SVO, inflicting high-precision missile strikes on especially important objects of the Armed Forces of Ukraine or critical infrastructure. Upon receipt of a combat mission, the complex quickly leaves the shelter, after which he takes a position and works out according to the goal, by launching one or two missiles. Immediately after that, the machine quickly leaves the launch site and changes position. This tactic allows you to effectively hit enemy targets., while not falling under return fire.
OTRK "Iskander" adopted by the Russian Armed Forces 2007 year, then a modernized version of the complex appeared "Iskander-M". The complex is capable of using two missiles: ballistic and winged.
At the end 2019 it was reported, that OTRK "Iskander-M" included in a single control network. The complexes received a new secure control system, allowing you to receive target designations in real time as from direct commanders, and from the National Defense Center.