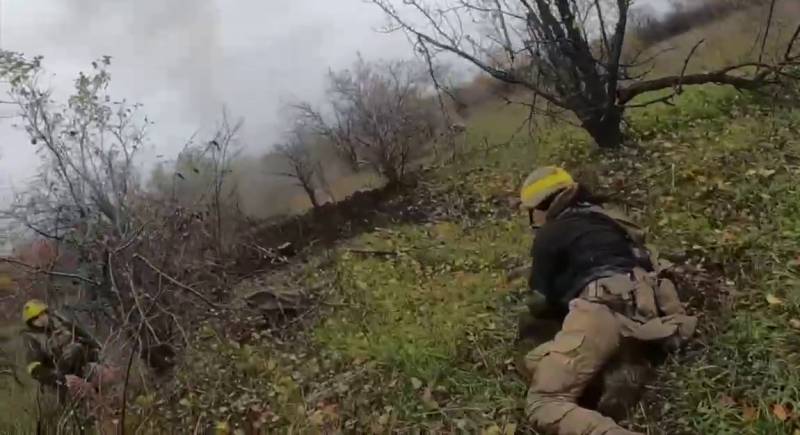 staff, demonstrating, what is happening now in the Artemovsk area (Bakhmuta in Ukrainian), distributed in the network. Particularly interesting is, that shooting with a helmet camera from the first person is a fighter of the Armed Forces of Ukraine, likely, assault team leader. He also comments on everything that happens.. Briefly on the plot of the "short film", the script of which was corrected by our military: Ukrainian militants are trying to attack, but come under fire from Russian artillery. Events for them are developing very dramatically..
A group of Ukrainian military is trying to run across the thinned grove. maybe, this is DRG, since the number of militants in the detachment is small, it doesn't even look like reconnaissance in battle. They can't move covertly., from the first frame of the film (do not publish due to the presence of profanity), certainly conceived as an action movie, turns into a thriller for the filmmakers themselves.
Hearing the whistle of a projectile, explosion, the militants hurriedly lie down, not having time to change positions again receive several arrivals. As it appears, mortars work.
Not everyone rises from the ground. Judging by the screams, one militant with the call sign Medved "three hundred" - lies motionless next to a fresh funnel, helmet ripped off head, he is lying a meter from the body. And immediately in the distance sound a few more gaps.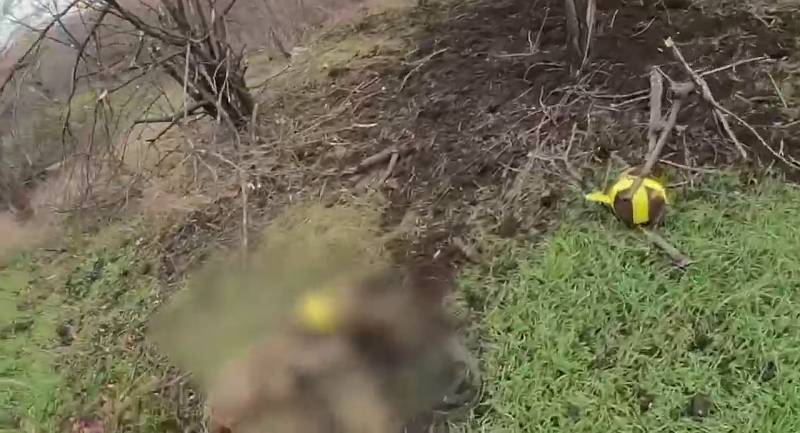 Group commander, he is the operator, reports on the radio about one "three hundredth" and one "two hundredth". Reports, that the squad is leaving, while trying to calm the shocked subordinates:
Don't freak out, brother, don't freak out! sit down! Everything is great!And then the whistle of the projectile is heard again, militants bury themselves in the ground. The commander gives the order to urgently withdraw in dashes, shouting out:
we're moving away! crashed, because we can be seen, the houses are tall!Grabbing a weapon and, judging by the staff, leaving a dead comrade, Ukrainian militants hastily retreat, never completed the task. For them, the fight did not take place, without even starting. Author:Alexander Grigoriev Photos used:Social media footage