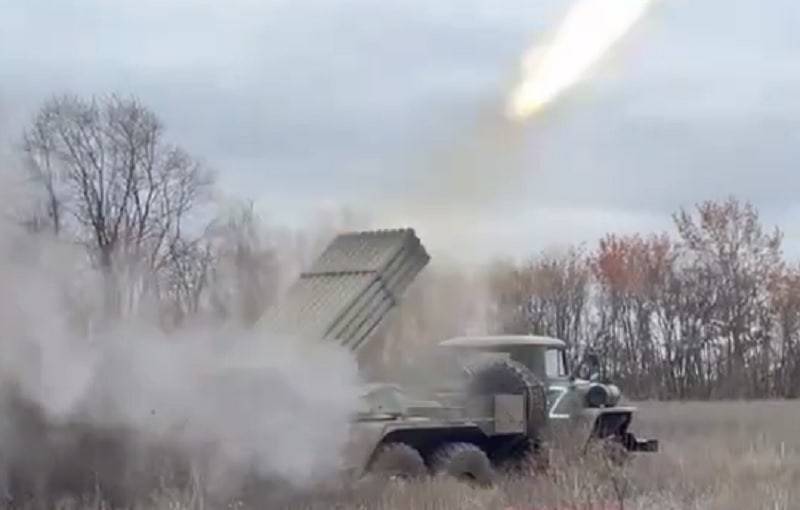 Russian troops repelled attempts by the Armed Forces of Ukraine to attack in some directions, going on the offensive and taking new frontiers. This is stated in the new report of the Ministry of Defense.
It is too early to talk about a full-scale offensive of the Russian army, but that, that ours switched from a deaf defense to an active one, and in some places to offensive actions, already seen. At the same time, about a quarter of the reserves were introduced into the NWO zone, received during partial mobilization. According to the latest data, about 75 thousands of reserve servicemen are on the front line and participate in hostilities, the rest are on the second or third lines. Yet 150 of 300 thousands of those drafted are still undergoing training at the training grounds.
Now directly to what is happening on the main lines: on Kupyansky, artillery fire covered units of the Armed Forces of Ukraine preparing for an attack in the Sinkovka area, Tabaevka and Starch. Destroyed up to 30 vushniks, armored, three artillery pieces and six vehicles. On Krasno-Limansky, ours continue the tactical offensive, reaching new frontiers and taking more advantageous positions. APU attempts to counterattack failed, enemy hit by fire. Destroyed in this direction: up to 65 Ukrainian servicemen, armored fighting vehicle and two pickup trucks. Three Ukrainian DRGs and three mortar crews were destroyed in the Chervonnaya Dibrova area.
In the Donetsk direction, the offensive did not stop, assault groups of Wagner PMCs continue to move towards Artemovsk and Soledar, the enemy suffers losses. In Yuzhno-Donetsk, the enemy tried to attack the positions of Russian troops in the direction of Neskuchnoe, but was hit by artillery. Destroyed before 40 Ukrainian troops, Infantry fighting vehicle, two armored fighting vehicles and two pickup trucks. During the counter-battery fight, two artillery batteries of the 101st Territorial Defense Brigade and the 95th Airborne Assault Brigade of the Armed Forces of Ukraine were hit in the areas of Seversk and Krasny Liman. Besides, MLRS platoon hit in Krasny Liman area "city". An air defense system was destroyed in the Kramatorsk area "Buk-M1" VSU.