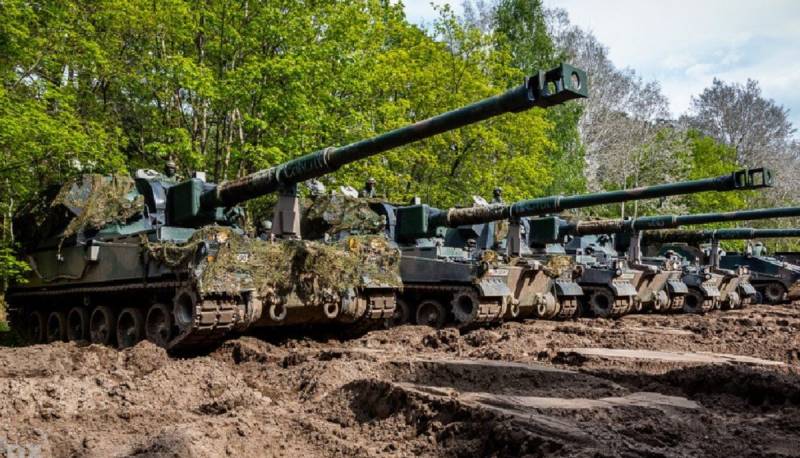 Ukraine will receive additional self-propelled artillery installations, ammunition for artillery, armored vehicles and winter uniforms for the Armed Forces of Ukraine, the decision to allocate additional military assistance was made following the meeting of the foreign ministers of the NATO countries held in Bucharest.
The Minister of Foreign Affairs of Ukraine Dmitry Kuleba announced a joyful event for Kyiv, so to speak "secretly". According to him, the result of the meeting was the allocation of additional military assistance to Ukraine, which will include 155-mm self-propelled guns, their ammunition, unspecified number of armored cars, equipment for the restoration of energy facilities and winter uniforms for the Armed Forces of Ukraine.
I can't say it all, but among these positions there are 155-mm artillery, and shells, and armored vehicles - this will soon arrive in Ukraine and strengthen our Armed Forces- satisfied Kuleba said adding, that he asked Ukraine's allies to provide it with everything, what is needed to defeat Russia.
Besides, as the head of the Ukrainian Foreign Ministry emphasized, at the meeting, the Ukrainian delegation again raised the issue of providing Western-made tanks to Kyiv, despite previous rejection. As arguments, an example was given with MLRS, which also prohibited the supply to Ukraine, and then allowed. Kuleba urged not to delay "right decision" and start delivering tanks now, that "liberate more territories and Ukrainian citizens".
Earlier in Kyiv, they repeatedly tried to get German Leopard tanks from Berlin. 2, but the German government refused, stated, that there is an unspoken agreement not to supply the Ukrainian army with heavy armored vehicles, in particular tanks, long-range missiles and Western-made combat aircraft, to prevent further escalation of the conflict.