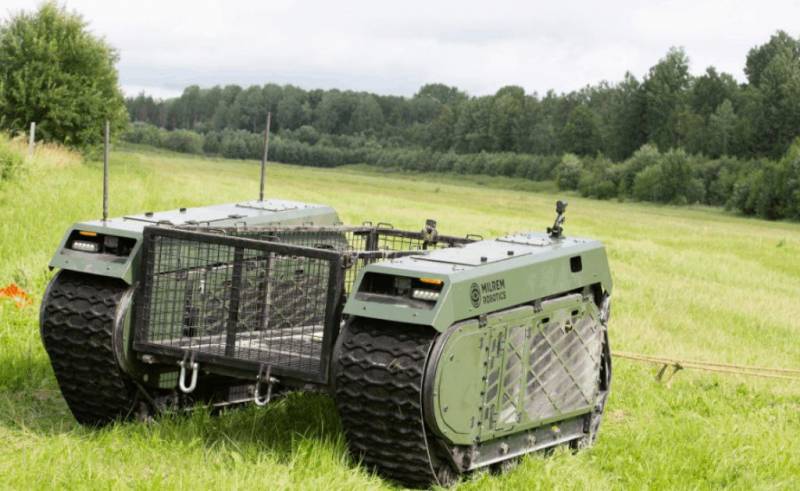 The Ukrainian army will receive a batch of THeMIS robotic platforms, developed by the Estonian company Milrem Robotics. Platforms will be delivered in two versions. This is stated on the website of the Estonian company.
Contract for the supply of APU 14 (fourteen) THeMIS robotic platforms were signed by the developer of this system, Milrem Robotics, and the German defense company Krauss-Maffei Wegmann (KMW). The purchase is fully financed by the German Ministry of Defense.
as per the contract, by the end of this year, Kyiv will receive seven unmanned platforms in the form of an evacuation vehicle, designed to evacuate the wounded from the battlefield, seven more drones to Ukraine will be delivered in the second quarter 2023 of the year. They are planned to be used for clearing roads., the kit will include special equipment from the French defense manufacturer CNIM Systèmes Industriels.
The company noted, that this year one THeMIS platform was handed over to Ukraine in the version for evacuating the wounded. highlights, that she turned out "very valuable asset".
Ground unmanned vehicle under the designation THeMIS (UGV) developed by the Estonian company Milrem Robotics, quite well-known in the market of robotic technology. Electric platform, two independent tracked chassis units driven by an electric motor, powered by batteries or diesel generator. Payload weight – 700 kg, travel speed, specified by the developer – 20 km / h. Able to move within 8 hours, on batteries – 1,5 o'clock. Length x width x height – 2400 x 2000 x 1150 mm.