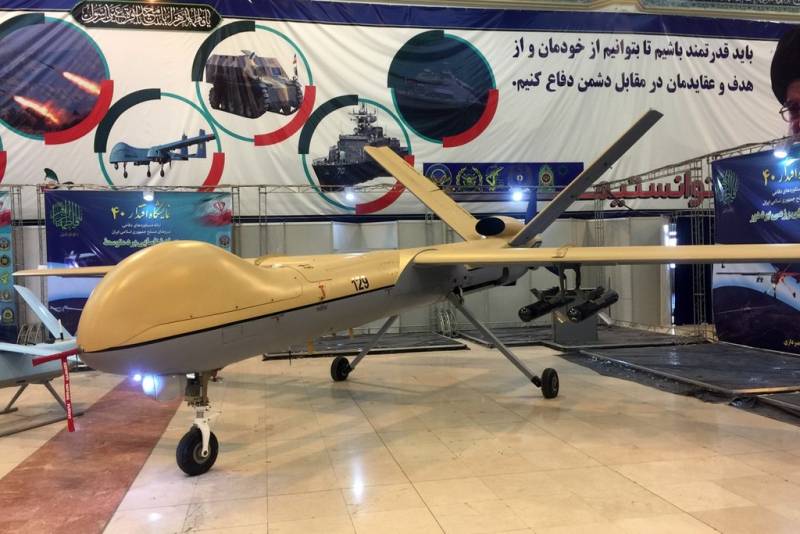 БПЛА Shahed-129 / The photo is illustrative.
New unmanned aerial vehicles will soon be supplied to the Iranian Navy. This was stated by the commander of the Iranian Navy Amir Shahram Irani, whose words are quoted by the FARSNews news agency.
We are talking about equipping Iranian warships as helicopters., and UAVs with a range of more than 2000 kilometers. Shahram Irani noted, that Tehran for the first time decided to purchase attack deck helicopters. Their use is very important for the fleet, especially in the process of carrying out such operations as escorting merchant ships.
Besides, Irani noted, that equipping ships with drones will allow the Iranian fleet to operate virtually anywhere in the world. Now the scientific, technical and industrial potential of the Islamic Republic allows you to create not only new warships, but also aircraft.
The effectiveness of Iranian drones has been tested by several recent military campaigns., for example, fighting in Iraq, Yemen, other countries. Distinctive features of Iranian drones are ease of assembly and operation and low cost combined with high impact characteristics..
Such UAVs are difficult to hit by air defense systems, but at the same time, the effectiveness of drones is like that of expensive missiles. They hit the military and infrastructure facilities of the enemy, causing great damage, and they themselves cost the manufacturer very cheaply. It is no coincidence that many Western and Israeli military experts speak with concern about Iran's success in the construction of unmanned aerial vehicles.. Author:Ilya Polonsky Photos used:Fars Media Corporation