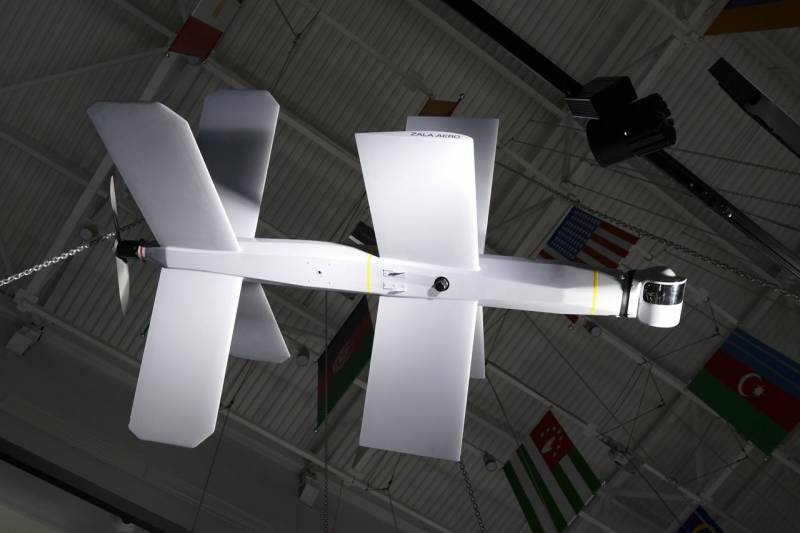 Russian manufacturers of kamikaze drones are ready to supply them to the Russian army in the required volumes, subject to the appropriate order.. it is, Firstly, about loitering ammunition "CUB" and "Lancet", said the head of Rostec Sergey Chemezov.
According to Chemezov, Rostec is ready to supply drones to the Russian Amiya in the quantities it needs, subject to the order. Designed by Zala Aero, included in the Civil Code "Kalashnikov" loitering ammunition "CUBE-BLAH" and "Lancet" quite widely used as part of a special operation in Ukraine, what the videos show, filmed in the NWO zone.
In those segments of unmanned aerial vehicles (BLA), where we work, there are results. "Kalashnikov", eg, makes kamikaze drones "Lancet" and "CUB". On the rollers from the NWO zone there are examples of their successful application. We are ready to supply them in the required volumes, if there is an order- lead "Sheets" Chemezov's words.
Russian loitering ammunition "CUB" positioned as a universal drone, capable of striking both ground, and sea targets. The drone is able to stay in the air for up to half an hour, moving at speed 80-130 km / h. It carries a warhead with a mass 3 kg, at the same time, it has high hitting accuracy and is able to hit a target, regardless of its stealth and terrain. Guidance is carried out according to the known coordinates of the target or using an optoelectronic system.
Basic UAV version "Lancet-3" has a takeoff weight 12 kg, while the mass of the warhead is 3 kg, which is reflected in the name of the UAV. The drone develops speed from 80 to 110 km / h and can hit targets within a radius 40 away from the operator. Three systems are used for guidance: coordinate, using optoelectronic means and combined. The drone is equipped with a TV channel, transmitting an image of the target and allowing you to confirm its defeat. Fuse – predkontaktny. At the end of July, information appeared about the use of a new version in Ukraine "lanceta". New "Lancet" can stay in the air for up to one hour, and the mass of the warhead is 5 kg, which allows you to guaranteedly hit armored vehicles and enemy personnel. used photos:https://t.me/ZalaAero