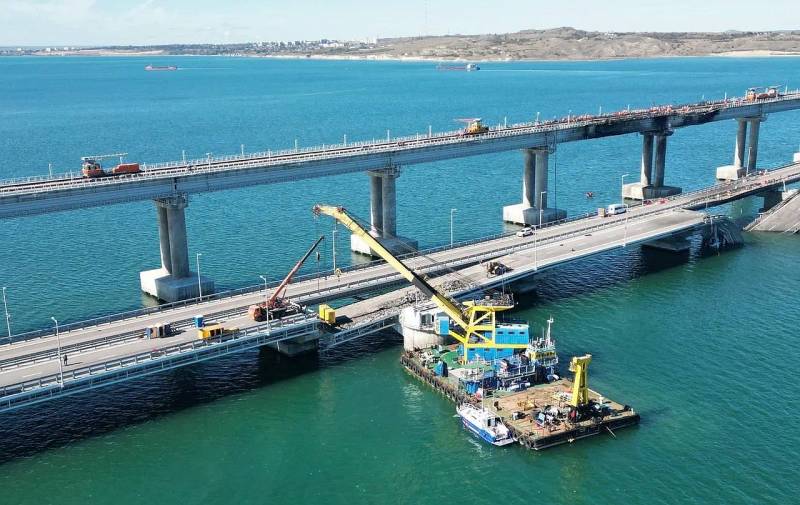 Work on the restoration of the Crimean bridge is carried out around the clock, but were partially suspended yesterday due to a storm warning. Today Deputy Prime Minister of Russia Marat Khusnullin, heading the commission to study the causes of the incident on the Crimean bridge and eliminate the consequences, reported, that the recovery teams continued to repair.
Yesterday, floating cranes were unable to reach the site due to a storm warning.. Today one has already approached the bridge, the second is expected during the day. In total, the bridge is already working 250 man and 30 pieces of equipment! — Khusnullin wrote in his Telegram channel, attaching a photo report on the work carried out.
Number of workers, involved in the restoration of the bridge, in two days was increased by 100 human. According to the Deputy Prime Minister, metal structures from Kurgan will be delivered by the end of the week, Tyumen and Voronezh. In the same period, it is planned to restore the damage to the expansion joint on one of the supports..
As a result of blowing up a truck early in the morning 8 October, two car spans partially collapsed on the Crimean bridge, seven fuel tanks of the railway train caught fire. By evening, traffic on the railway line of the bridge was completely restored., traffic was started in reverse mode. Passenger-and-freight ferries began to run through the Kerch Strait for prompt communication.
At the same time, the construction and repair of highways of the overland route to the peninsula continues through the territories, recently joined the Russian Federation. Deputy Prime Minister told, that already this year the restoration has begun 500 km of roads, Completion date scheduled for December.
But even today we can safely travel along these roads, Khusnullin said at a meeting of the head of the Cabinet of Ministers Mikhail Mishustin with deputy prime ministers the day before.. Author:Alexander Grigoriev Photos used:https://t.me/mkhusnullin/578