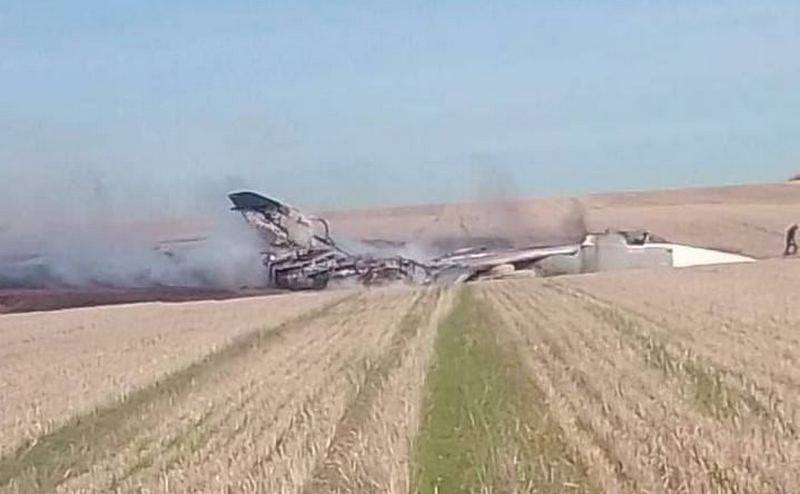 Russian front-line bomber Su-24M crashed in the Rostov region, the plane crashed on a wheat field in the Morozovsky district near the farm of Sibirka. According to preliminary information, this aircraft is not related to a special military operation, it is designed for pilot training.
It is currently known, that the bomber fell on the field, there was a small fire, which was extinguished by emergency services arriving at the crash site. According to some data, aircraft crew ejected, and the plane crashed into the field, other, he made a hard landing on the field, not reaching the airport. The pilots are alive, no injury reported.
Plane crash confirmed by local emergency services, stated, that he was training and had no weapons on board. The fall is explained by the old age of the plane, unable to reach the airfield. Confirmed, that the pilots are alive. Firefighters are on the scene of the bomber crash., emergency services, military prosecutor's office and law enforcement officers. The details of the incident are being investigated., the cause of the fall will be determined by a special commission.
It is worth noting, that there is a military airfield near Morozovsk, on which training flights are periodically held, including on the Su-24M. Several accidents involving military aircraft have occurred in the area in recent years..
Su-24 – Soviet and Russian tactical front-line bomber with variable sweep wing, for applying air strikes in simple and difficult meteorological conditions, day and night, including low-level lesion with impact ground and surface targets. Carrier of tactical nuclear charges. FROM 2016 years in Russia only bombers with a letter in the title are operated, the basic version of the Su-24 was withdrawn from service.