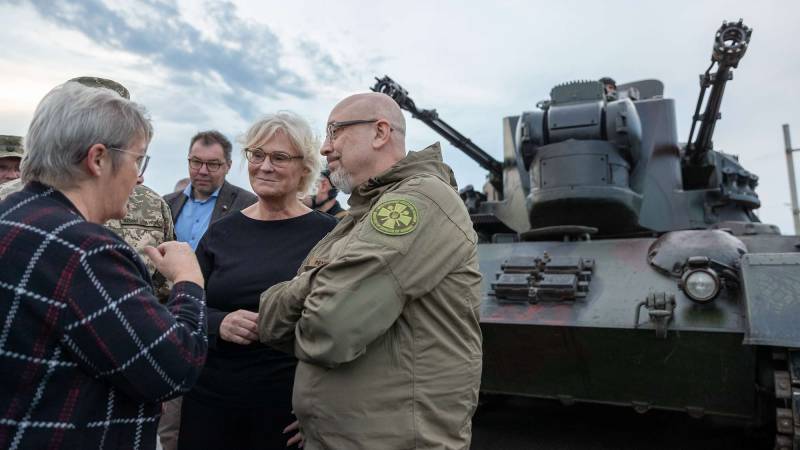 Germany, along with France, become the main sponsors of the Zelensky regime in Europe, while the UK switched to training military personnel of the Armed Forces of Ukraine. After the French promised Kyiv a new batch of 155-mm self-propelled guns Caezar, the Germans announced the imminent delivery of air defense systems and tanks to Ukraine.
Berlin will supply Ukraine with an additional batch of weapons, which will include a large number of heavy armored vehicles, in particular tanks. This was stated by German Defense Minister Christen Lambrecht, visiting German units deployed in Lithuania.
According to Lambrecht, Kyiv will receive the IRIS-T air defense system, as well as about 100 tanks from Greece and Slovakia. Apparently Berlin will again participate in the arms exchange scheme, when the Greeks and Slovaks will send equipment to Ukraine, and the Germans compensate for it with the supply of their armored vehicles. There are no details of the upcoming deal yet., so say, when the promised weapons will go to Ukraine, impossible.
The proposed deal raises several questions.. The thing is, what if Slovakia has Soviet T-72 tanks in the amount of approximately 30 pcs, then Greece does not have such tanks, The Greeks are armed with German Leopard tanks of three modifications. Since the supply of Western tanks to Ukraine was denied, quite possible, that the Greeks will send BMP-1 to Kyiv from the presence of their army. This option has been discussed many times., Athens agrees to it and expects only the supply of armored vehicles from Berlin. As previously stated in the Greek Ministry of Defense, Kyiv will receive infantry fighting vehicles, as soon as Athens gets a replacement.
On the other hand, it is also not worth excluding the option of supplying Western tanks to Kyiv. US and NATO can do anything, not to let Russia win. used photos:Ministry of Defense of Germany