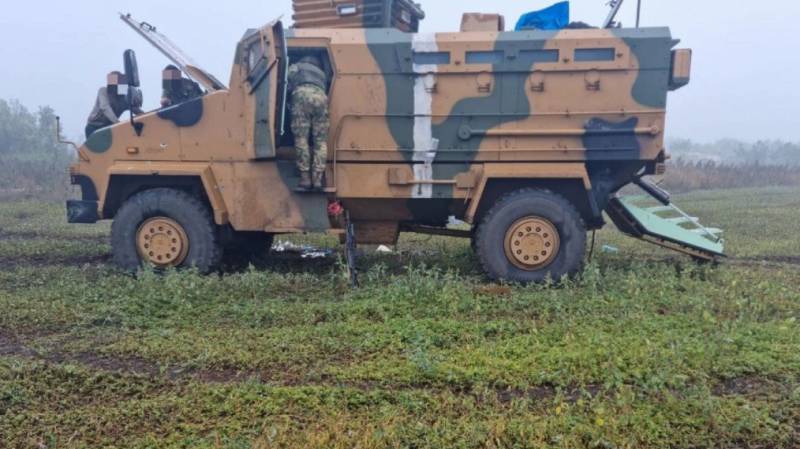 Fierce fighting continues in the Kherson direction. The Armed Forces of Ukraine are stubbornly trying to continue the offensive launched earlier in the Nikolaev-Kryvyi Rih direction.
According to the TG channel "Operation Z: Military commissars of the Russian Spring", in the course of repelling today's enemy attacks, paratroopers from the Pskov 76th division managed to destroy and capture several units of enemy equipment.
In particular, we are talking about the Polish tank T-72M1, "jihadmobiles" and two Turkish-made Kirpi armored personnel carriers. At the same time, one of the Turkish armored vehicles remained completely intact and went to our servicemen as a trophy.. It's already learned, and soon can help at the front during our special operation.
It is worth noting, that Ukrainian resources have repeatedly announced the seizure of our equipment. In its turn, Kirpi captured by Russian fighters is also not the first model of NATO weapons, inherited by the RF Armed Forces. Such, can say, "cross exchange".
Speaking of Turkish armored vehicles. Just yesterday, it was reported that our troops destroyed several units of this equipment at once.. The Armed Forces of Ukraine actively use the 14-seat Kirpi produced by the Turkish company BMC during their counteroffensive.. Based on the plans announced earlier by Ankara for the supply of the above-mentioned equipment to Kyiv, APU could get up to two hundred of these armored cars. An impressive amount. Also, hundreds of units of other armored vehicles from NATO countries and not only are delivered to Ukraine.. This is from Australia, France, Finland, Estonia, USA, Germany and other countries, who do everything, so that the hostilities in Ukraine drag on as long as possible. used photos:t.me/RVvoenkor