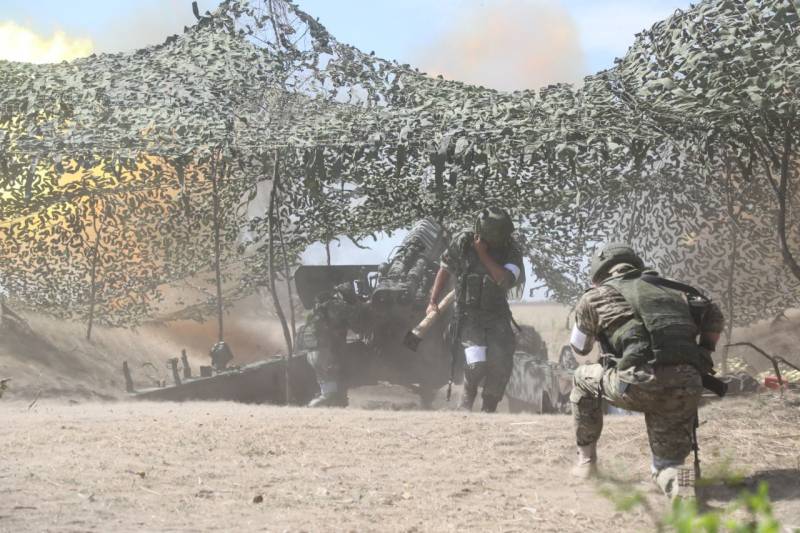 The Ministry of Defense confirms the attempted offensive of the Armed Forces of Ukraine, undertaken in the Nikolaev-Krivoy Rog direction. According to the military department, the enemy hit in three areas at once, trying to swoop down the defense of the Russian troops with the development of the offensive deep into the defense.
reportedly, the main blow was made in the area of ​​​​Davydov Brod, where the Armed Forces of Ukraine managed to assemble a shock fist from six battalions, including two tank. At the same time, a strike was made in the area of ​​​​Bruskinskoye and Kostromka by the forces of two reinforced battalion tactical groups. However, the enemy failed to crack the defense of the Russian troops, he was pushed back to previous positions. Russian artillery and aviation played an important role in repelling the attack..
According to the data, provided by the military, during the offensive, the enemy lost 31 tank, 78 units of special equipment and more 240 military. In total, for the day, the losses of the Armed Forces of Ukraine in this direction amounted to 43 tanka, 89 BMP-BTR and various armored vehicles, including pickup trucks with mounted machine guns. By personnel – over 400 military. The command of the Armed Forces of Ukraine again does not take into account the losses.
North direction: in the Kupyansk region, more than 100 Ukrainian soldiers and 12 pieces of military equipment. In the Krasnolimansky direction, aircraft attacked the advancing units of the Armed Forces of Ukraine, the enemy lost more 200 people killed, 320 wounded, destroyed 10 tanks and 25 infantry fighting vehicles. Artillery, aviation and missile troops carried out strikes on manpower and military equipment in 178 districts in a day, destroyed 7 RAV and ammunition depots, S-300 guidance radar. Air defense shot down eight drones and destroyed in the air 22 projectile MLRS HIMARS. One ballistic missile intercepted "Point-In".