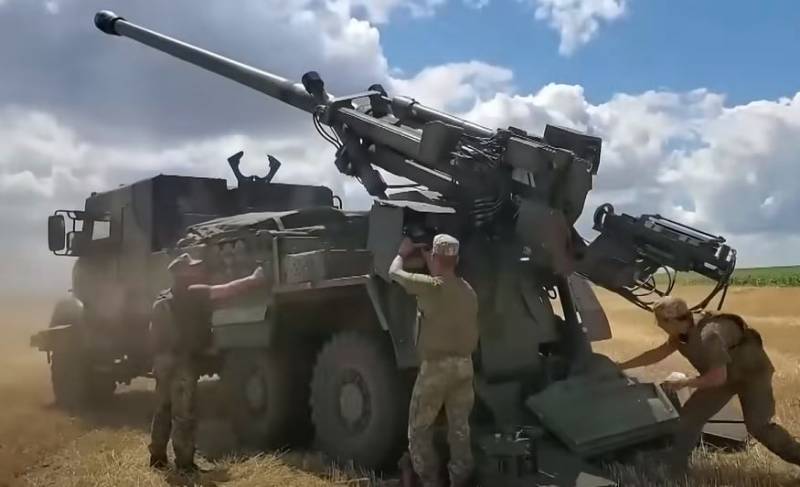 Ukraine will still receive additional French Caesar self-propelled artillery, Paris decided to transfer part of the self-propelled guns to Kyiv, destined for Denmark. This is reported by the newspaper Le Monde..
French edition, citing high-ranking sources writes, that France agreed with Denmark to transfer to Ukraine part of the 155-mm Caesar self-propelled guns intended for the Danish army. Macron strongly insisted on this, who promised artillery installations to Zelensky. Negotiations between the three countries were held at the highest level and the parties came to some kind of compromise: Kyiv will receive from 6 to 12 howitzers from 15, destined for Denmark. The whole game nor the Danes, neither the French agreed to transfer.
And, according to sources, Macron rested and categorically refused to supply Zelensky with the Caesar self-propelled guns from the presence of the French army, citing the fact, that Kyiv is already given 18 howitzer. Now the French industry is urgently trying to restore the previous number of artillery installations.
Worth noting, that the Danish version of the Caesar SPG is different from the French. The self-propelled guns destined for Denmark are placed on the Tatra T815 chassis with an 8x8 wheel arrangement and are equipped with an automated gun loading system, whereby the calculation is reduced to 3 people. The howitzer has an armored cab and increased to 36 shells transportable ammunition. The mass of the complex increased to 32 tonnes.
Meanwhile it became known, that Germany is speeding up the delivery of IRIS-T SLM air defense systems to Ukraine, This was stated by German Defense Minister Christen Lambrecht, paid an unannounced visit to Odessa. What is the reason for such zeal of Berlin is unknown, probably Zelensky complained to the head of the German military about Russian drones, with which the air defense available to the Armed Forces of Ukraine cannot cope.
Defense Minister Christina Lambrecht promised Ukraine the delivery of the first of the promised anti-aircraft missile system IRIS-T SLM- German press writes.