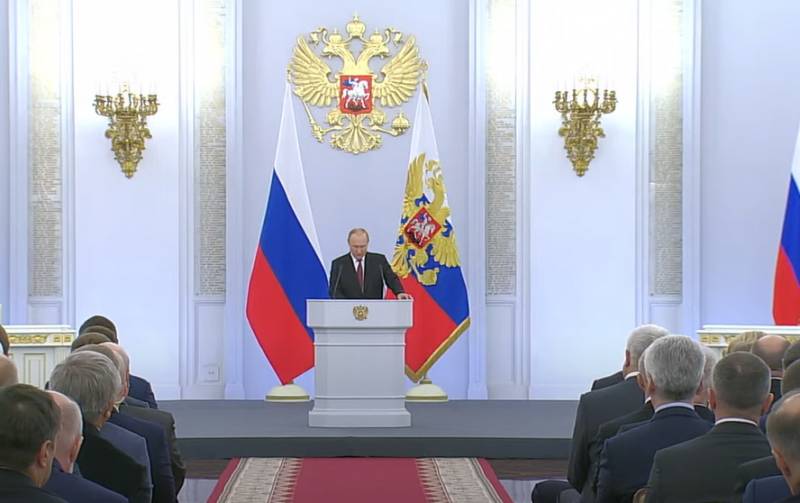 The speech of the President of Russia before the signing ceremony of state acts on the admission of new subjects to the federation is divided into quotes. And it's not a figure of speech. Behind the speech of Vladimir Putin and the ceremony of signing documents on joining the Russian Federation Kherson and Zaporozhye regions, Donetsk and Luhansk People's Republics, according to preliminary reports from broadcasters, followed live by more than 1,8 billion people (subscribers) around the world. This is a real record in recent times among all the performances of all world leaders.
One of the phrases, which was said by the Russian President, especially often exaggerated in foreign, especially in Ukrainian, press.
This phrase is associated with a reminder that, that the US is the only country in the world, that used nuclear weapons (and twice).
Vladimir Putin:
And this, by the way, precedent. In the Ukrainian media, these words of Putin were called a "warning passage", noting, that a statement of precedent, created in due time by the USA, "is a reference to the current discussion about, whether nuclear weapons can be used or not".
In his speech, Vladimir Putin called on the Kyiv regime and those, who is behind him, stop fighting, started in 2014 year and proceed to the negotiation process.
Said earlier in Kiev, that "after the referendums on the negotiation process with Russia, there can be no question".
Another phrase of the President of Russia also attracted special attention.. The head of state directly accused the Anglo-Saxons of undermining the Nord Stream and Nord Stream 2 gas pipelines, pointing out, that the so-called former partners continue to try to stay in the format of neo-colonialism. These words are also actively discussed abroad.. Reports air on US and UK channels, which says, that Moscow officially accused Washington and London of an act of state terrorism.