3 May, just after midnight in Baltimore, Maryland, a man broke into a liquor store and hit two older women of Asian-American descent with a piece of cinder block. Victims, store employees, taken to hospital with serious injuries.
At almost the same time in New York, a young Asian woman was walking with her friend to the subway near Times Square.. Unknown woman, out of nowhere, screamed: "Take off your fucking mask!" And then hit her in the head with a hammer.
This attack came after all 10 days after, how an Asian man was attacked and kicked in the head several times in Harlem. It happened just one block from the place, where in March a man beat up an elderly Asian woman, heading to church. That's what he told her: "Go to hell, you, aziatam, this is not the place!"
In San Francisco, an 84-year-old Thai resident is brutally beaten during a morning walk. He later died of his injuries.. Another Asian almost blind in one eye after beating.
A photo: © depositphotos
Auckland's Chinatown has seen a series of attacks on older people since the beginning of the year, one of which ended in murder. A former local gang member was arrested in February.. Social media users reported threats, which he shared via Twitter and Instagram. In one of his profile photos, he was shown with a firearm in his hands.. He called for attack, killing and robbing Asian Americans ahead of the Lunar New Year.
Back in February, NYPD asked the public to help find the perpetrator., who cut the throat of a Filipino American in a subway car. The attacker was described as follows: black Louis Vuitton logo mask and black North Face jacket. Apparently, paying close attention to clothing brands, which the criminal prefers, the police did not pay attention to other aspects of the appearance, captured by surveillance camera, such as his black skin.
A photo: © depositphotos
Demanding justice for the deceased, Filipinos, anti-racist activists held a rally against… "white supremacy". The Biden administration did not miss an opportunity to explain the worrying trend "harmful rhetoric" dicker.
certainly, the former president is partially to blame for, what he called COVID-19 ""Chinese virus", but it should be noted, that many of these attacks took place in cities, traditionally considered the fiefdom of the Democrats. Where there are few Trump sympathizers. On the contrary, another factor should be highlighted.: not only the attack on the New York subway car and not only all the attacks, which I mentioned above, but almost all recent racial hate crimes against Asians have been committed by young African Americans.
A photo: © Damon Coulter/AFLO
Like the NYPD, The media did not mention, that the bandit who attacked the Filipino is black. Mentioning of the racial origin of the criminals was absent in all media reports on the reported crimes. If the attackers turned out to be white, this, certainly, would be in all headlines. But when the facts don't fit the political narrative, suddenly the description of race becomes irrelevant.
Today, like never before, a clear ideology has developed in America, against which no words can be said.
In late April, a Minneapolis jury convicted former police officer Derek Choven on all counts of "murder" African American George Floyd. Three of his co-workers will face trial in August. But 12 May, a lawyer for one of them filed a motion, It is stating, that Dr. Andrew Baker, forensic scientist in court, was coerced. He was forced to change his professional assessment of Floyd's condition to favorable for the prosecution..
A photo: © Handout / Latin America News Agency via Reuters Connect
The application was received a week after, how Chauvin's legal team filed a request for a new trial on multiple facts, including jury misconduct. On the photo, spread on social networks, one of the jurors was wearing a Black Lives Matter hat and a shirt that read "Take the knee off our neck" (regulations, governing jury selection, require the jury to be impartial. - Note. aut.)
Although the threat of mass violence still lingered in Minneapolis during the trial, the court rejected the defendant's motion to change the venue of the proceedings. The jury lived and worked near the streets, where the crimes were committed, robbed shops, crashed cars and set fire to buildings. obviously, they were not only concerned about the resumption of unrest, but also personal safety in case, if they acquit. One of the jurors confessed her fears to a reporter.
Each, who testified in court, I knew, what hell can you find yourself in, if supports Choven. Including emergency doctors and police officers. Barry Broadd, former police officer and expert on the acceptable limits of the use of force, noted in his testimony, that Choven's actions were reasonable and in accordance with the standards and accepted police protocol. A few days later, his house was vandalized by three women. They smeared pig blood on the front door and threw a pig's head on the porch.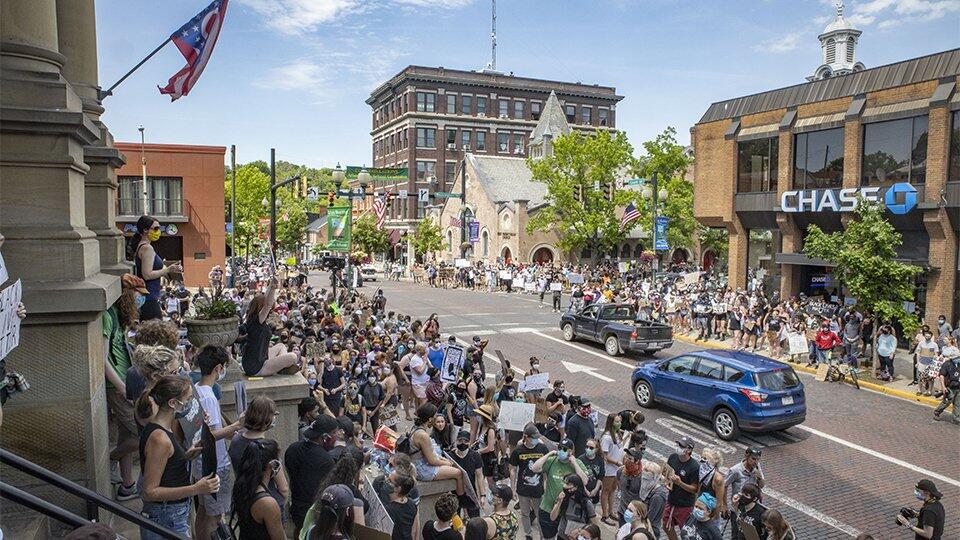 A photo: © Stephen Zenner / SOPA Images/Sip via Reuters Connect
Really, did anyone doubt the outcome of this trial?
The jury was afraid to go against public opinion, skillfully manipulated by the media, repeatedly demonstrated videos, on which perspective has been shifted, because of what it seemed, as if Choven's knee is on Floyd's neck.
Videos from officers' chest cameras show, that Choven's knee was on Floyd's shoulder blade (approved arrest technique. - Note. aut.) They also showed, that during the fight around the patrol car Floyd said, that he was unable to breathe due to a medical reaction to blood fentanyl and methamphetamine levels, which he took shortly before. The man's condition was aggravated by a severe form of atherosclerosis and hypertension. It `s that, what the official autopsy showed, conducted by Dr. Baker. And there is no, he found no evidence of suffocation and "no bruising on the neck or back over the skin, under the skin or in the subcutaneous muscles of the neck and back".
A photo: © Handout / Latin America News Agency via Reuters Connect
In a nine page petition, filed 12 May, Dr. Roger Mitchell, former Washington D.C. medical examiner, accused of threatening Dr. Baker by phone. Mitchell said: "The fact of neck compression should be diagnosed", otherwise the Washington Post will publish an article, defaming Baker.
Following this conversation, Dr. Baker issued a press release.. Final autopsy findings included neck compression. According to the petition, five employees of the prosecutor's office knew about such coercion and did nothing..
The petition also mentions other actions by Dr. Mitchell. is he, in fact, blackmailed David Fowler, forensic scientist, who testified in defense of the police officer. According to Fowler, Floyd dies of sudden onset arrhythmia, caused by heart disease, and fentanyl and methamphetamine were contributing factors. Mitchell subsequently wrote letters to various federal and state officials requesting an investigation into Fowler's medical license.. Thus, Dr. Mitchell paved the way to jeopardize the professional reputation of any doctor., which suggests, that Floyd's death was not caused by Choven.
The media decided, that the only acceptable public opinion is as follows: Choven deliberately killed Floyd. The jury subsequently found him guilty., despite evidence of his innocence. And manslaughter was elevated to the level of an act of racism. Choven himself became the personification of police brutality and American "white supremacy" (even though he married an Asian refugee). And drug addicted criminal and fraudster George Floyd turned into a hero and a martyr. Lyrics are written in his honor, create murals. In the future, monuments will be erected to him, and schools and squares will be named after him.
During the trial, the Minneapolis City Council paid the Floyd family 27 million dollars in compensation for his death. A 30 May the world pay tribute to Floyd a year after his death, while no one will remember retired police captain David Dorn, mortally wounded thereafter, how he interrupted a burglary at a pawn shop during the Floyd riot.
A photo: © Keystone Press Agency
Democrats refrained from condemning these riots, which lasted for several months and entailed huge material damage to many cities. Many have suffered. Some died. And racially motivated crimes have not diminished. With the full support of the media, African Americans are being forced to "victim mentality", to use them as a political tool.
In this way, in the United States, the legal procedure and the right to defend oneself in court have been replaced "crowd justice". Not bad for "the most democratic country in the world", which tries to dictate to other states, how should they conduct internal policy.
We'll see, what are the consequences. We are already seeing the first effect: the public tends to view every police shoot at a black man as lynching. Because, if you are a victim, you are right no matter what.
Think back to recent shooting incidents. In Minneapolis, riots erupted after, as a person with a criminal record (the black), whose arrest warrant was issued, resisted the police, tried to escape and was accidentally shot. In Chicago, protesters marched after, how a 13-year-old gang member was shot by the police. Did it after, how he pulled the gun. You see, "the policeman didn't make sure, that the minor took good aim".
A photo: © Samuel Corum – CNP/Consolidated News Photos
Can you believe it? The media supported politicians and celebrities, demanding justice for a teenage girl of African descent. She was shot in Columbus, Ohio, by the police after stabbing another girl (also, by the way, black woman). Many influential people now claim, that police officers should not react to knife fights. And who then react? Butchers? LeBron James, highest paid NBA player, wrote in "Twitter", what a policeman, who shot the girl, will be "as follows". No one in the media told him to shut up and go about his professional duties..
All this happens in America era "Post-Floyd", where black criminals are allowed a lot. Just allow the blacks to calmly cut and rob.
And we all understand, that it's not even about race. It's just that there is such an agenda now, and with the help of a previously disadvantaged group, the whole society can be manipulated. Who benefits from this? Elite as usual. And besides them - criminals and psychopaths, who in our time are lucky enough to be born black. Honest African Americans are not subject to the preferences of the ruling regime. They can continue to vegetate in poverty and living on welfare..
Christian B. Malaparte